Hours of Operation
Campus
Building
Hours
RTP
RT1 -332MB
T-TH 9:00 a.m. - 4:00 p.m.
M, F, and evenings by appt.
Scott Northern Wake
NC 206
M-TH 8:00 a.m. - 4:00 p.m.
F and evenings by appt.
Southern Wake
SL 133
T-W 8:00 a.m. - 4:00 p.m.
Th 10:00 a.m. - 2:00 p.m.
M, F, and evenings by appt.
Make Reservation at SNWC Veterans Computer Lab
 
Please email Marilyn Terrill, Dean, Veterans Programs, [email protected], if you need assistance.
Veterans Zones are spaces for our Student Veterans and their family members to connect in a safe environment and interact in a unique academic and social setting.  A variety of services are available at the Veterans Zones including a computer lab and activity center, as well as representatives from Veterans Upward Bound, NC Serves, and Student Veterans of America (SVA).

We are proud to serve our veterans and are thankful for their many sacrifices.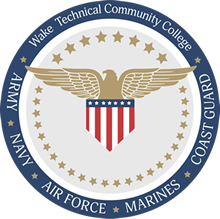 This seal does not imply endorsement by the Department of Defense or any branch of military service.