The Non-Credit Computer Education Department delivers basic and advanced technology training so you can learn a new skill or earn an industry-recognized credential to level up to your next job. 
Many non-degree IT courses align with Wake Tech's IT degree programs, which means you can take certain "non-degree" courses and still earn college credits for that course if you enroll in a qualifying degree program.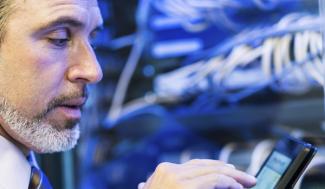 Course Details & Registration Information for All IT Courses
Tableau Desktop Fundamentals
SEF-3001FC2
2 available classes
Tableau Software is a world leader of Tableau Desktop, a powerful, business intelligence (BI) software. Participants will learn basic terminology and concepts, and develop skills to analyze data, create powerful graphical representations of data, and produce shareable, inter...
Technology Basics for Digital Literacy
CIS-3100L2
1 available classes
This course bundles three topics that are applicable for many career pathways: computing fundamentals, online essentials, and application essentials. The course introduces students to technology basics for computers, devices, and the Internet. By the end of the course, stude...
Web Programmer Using HTML5, CSS, and JavaScript
CSC-3110EI2
1 available classes
This program bundles five topics: GitHub, a culture of agility, HTML, CSS, and JavaScript. By the end of the course, students should know how to use GitHub for version control and collaboration, contribute to an organization's culture of success using Agile, and identify pro...
Web Programmer Using Python and Django
CSC-3110EJ2
1 available classes
The course is for those with web development skills who want to develop additional skillsets. Students will further their knowledge using Python programming and the Django framework. Instruction will prepare students to apply programming techniques, enhance applications with...
Autodesk Revit MEP Basics
DFT-3100Y2
Autodesk Revit MEP is a building information modeling-based (BIM) software used by professionals across many industries. This course – for mechanical, electrical, and plumbing (MEP) engineers – introduces participants to the program's user interface and focuses on the HVAC,...
AWS Fundamentals
SEF-3001IH2
For most businesses today, cloud computing has become a core competency in most organization's IT infrastructure. Demand has increased and will continue to increase for IT professionals who have the ability to design, deploy, and manage cloud applications. Amazon Web Service...
Bookkeeping Certification Exam Prep and QuickBooks Hands-On Training
ACC-3107A2
Develop mastery of six areas relevant to adjusting entries, correcting accounting errors, payroll, depreciation, inventory, internal controls and fraud prevention. Learners will prepare for the national Certified Bookkeeper exam through hands-on QuickBooks training. Course r...
Bookkeeping Fundamentals Using QuickBooks
SEF-3001HQ2
Learn bookkeeping essentials to build a solid foundation in the accounting field. Have little or no bookkeeping experience? Increase your understanding using QuickBooks. Gain hands-on skills and broaden your accounting knowledge.
Cisco Certified Network Associate CCNA 200-301
NET-3100N2
This course is intended for participants who have completed CompTIA Network or those with equivalent experience who want to expand or certify their knowledge and skills. Topics covered will include network fundamentals, network access, IP connectivity, IP services, security...
CompTIA A+ Certification Exam 220-1001
CET-3100G2
This course is intended for participants who have completed the CompTIA IT Fundamentals course or those with equivalent experience who want to expand their knowledge and skills. Topics covered include mobile devices, networking technology, hardware, virtualization, cloud co...