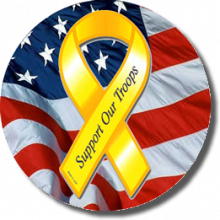 Wake Tech has been designated a Yellow Ribbon School by the U.S. Department of Veterans Affairs, which allows the college to provide financial assistance to student veterans who aren't North Carolina residents, with matching funds contributed by the VA.
Under the Yellow Ribbon program, Wake Tech contributes up to $1,200 each to up to 50 qualified full-time and part-time student veterans. The VA will match Wake Tech's contribution, affording each non-resident student up to $2,400 for tuition and fees that the Post 9/11 GI Bill® doesn't cover.
Yellow Ribbon awards are granted on a first-come, first-served basis, but awards cannot result in a surplus of funds for any student.
Eligibility
Student veterans must meet the following requirements to be eligible for a Yellow Ribbon award:
Eligible for the maximum benefit (100%) rate under the Post-9/11 GI Bill®
Fully discharged from the military. Students cannot be on active duty, a spouse transferee of an active-duty service member or on terminal leave.
Admitted to Wake Tech and enrolled in a curriculum program of study. Workforce Continuing Education and non-credit students are ineligible.
In good academic standing, with a GPA of 2.0 or higher and not on academic probation, warning or suspension or have a student conduct restriction
Ineligible for in-state tuition
To apply for the Wake Tech Yellow Ribbon Program, qualified student veterans must submit Form 1404, a program application, to Wake Tech officials. The college will then certify the students' enrollment to the VA, including Yellow Ribbon program eligibility criteria and other information as required.