Are you interested in becoming a real estate agent? Or are you a realtor who needs Continuing Education Units (CEUs)? Wake Tech can prepare you for the North Carolina Real Estate Commission licensing exam. We also offer classes on flipping houses, investing in real estate property, and The Ageless Home™ -- a class about building and remodeling homes with a universal design concept to meet the needs of all ages and abilities.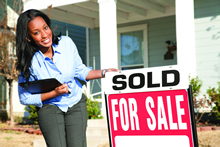 Course Details & Registration Information
Creative Real Estate Investing
SEF-3001A2
1 available classes
Learn how to invest in real estate – how to find, evaluate, buy, sell, finance, and manage multiple properties. This course, for the beginning investor or the seasoned manager, includes negotiation "secrets" and teaches you about short sales, REOs, and much more.
FAA Part 107: Commercial Drone (UAS) Pilot Exam Training
SEF-3001GD2
1 available classes
Careful – flying a drone can get you into legal trouble if you don't know the rules. But once you know them, there's money to be made! The FAA now requires all commercial drone pilots to pass a certification test to pilot a UAS (Unmanned Aerial System). This course prepares...
Real Estate Law
RLS-3700AE
1 available classes
Explore real estate law from investing to title examinations. You'll master the essentials, with examples that show you how to use this knowledge in day-to-day real estate practice or personal real estate investing. Each lesson starts with an explanation of theory and procee...
Real Estate Provisional Broker
RLS-3700A2
1 available classes
If you'd like to work in real estate in North Carolina, this course is your first step toward licensure. This pre-licensing course meets NC Real Estate Commission requirements for submitting a provisional broker application to the state. The course introduces students to rea...
"Flip It"...A look into investing in today's real estate market
SEF-3001EO2
Examine investment opportunities in real estate, including personal residences, rental properties, and "flips," and learn how to determine which investments are smart ones. Homeowners will learn to evaluate their homes as investments, calculating value accurately, considerin...
Career Readiness Skills for the Real Estate Broker
HRD-3004BV2
The real estate industry is far-reaching and encompasses everything from buying and selling homes, securing financing to appraisals and inspections. Explore how to become a real estate broker; learn about the skill-sets and interpersonal characteristics required for a succes...
Drone (UAS) Flight Operations & Training
SEF-3001OJ2
You have passed the FAA-107 test and you want to put your drone to use but how do you know what your drone is capable of? How do you know what you are capable of? How can you learn to maneuver and explore your potential safely as a pilot? This class helps to answer those q...
Pathways to Careers in Interior Design and Home Staging
HRD-3004BG2
If you like to make a room or office look and feel beautiful, take this class to explore the world of interior design and home staging. This class will examine the job duties, work environments, and educational requirements for launching a career that will use creativity an...
Read Between The Lines: Helping Investors Understand the Numbers
RLS-3700B2
Learn how to better protect, advise and serve your clients in their real estate investments. After completion of this program, the licensee will be able to protect their client's interests by advising effectively on the purchase and strategies behind residential real estate...