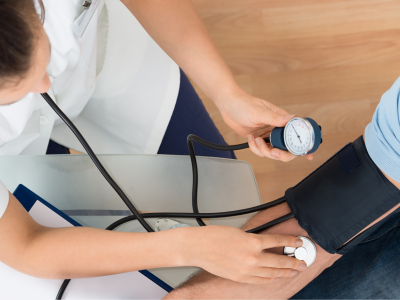 Program Contact
Health Sciences Admissions
Degrees & Pathways
AAS - Associate in Applied Science
Diploma
About The Program
Medical assistants are multi-skilled health professionals specifically educated to work in a variety of health care settings performing clinical and administrative duties. The practice of medical assisting necessitates mastery of a complex body of knowledge and specialized skills requiring both formal education and practical experience that serve as standards for entry into the profession.
Wake Tech offers both a one-year diploma and a two-year Associate in Applied Science degree in Medical Assisting, and apprenticeships through WakeWorks are available to students.
The diploma program is a full-time day program, with classes being taught online, hybrid and seated at the Perry Health Sciences Campus, off Sunnybrook Road adjacent to WakeMed in Raleigh. Only a few classes are taught online, so the program cannot be completed online.
After completion of the Medical Assisting diploma, a student is eligible to take a medical assisting credentialing exam (CMA-AAMA or RMA-AMT) and then find employment as a credentialed medical assistant.
The Medical Assisting associate degree courses include all of the Medical Assisting diploma courses, as well as three medical assisting associate courses, which are offered online, and four general education courses.
Coursework includes instruction in scheduling appointments, coding and processing insurance accounts, billing, collections and computer operations; assisting with examinations and treatments; performing routine laboratory procedures; electrocardiography; supervised medication administration; and the legal and ethical issues associated with patient care. Employment opportunities include physicians' offices, health maintenance organizations, health departments and hospitals.
Occupational risks
Medical assistants work directly with providers and patients, with the goal of providing health care and ensuring patient safety. As with any health care profession, medical assistants are exposed to certain occupational risks or hazards while performing their duties, including the following:
Exposure to infectious diseases
Sharps injuries
Blood-borne pathogens and biological hazards
Chemical and drug exposure
Ergonomic hazards from lifting, sitting and repetitive tasks
Latex allergies
Stress
The U.S. Occupational Safety and Health Administration (OSHA) has established a series of standards that protect the safety of health care workers and patients. Also, as an accredited program, Wake Tech's Medical Assisting program teaches students about the hazards they face on the job and the protocols that can be put into place to ensure a workplace culture that prioritizes safety.
Students are required to take the MED-138: Infection/Hazard Control course in the first semester. The course introduces the student to infection and hazard control procedures necessary for the health care worker. Topics include introduction to microbiology, practical infection control, sterilization and monitoring, chemical disinfectants, aseptic technique, infectious diseases and applicable North Carolina laws.
Accreditation and certification
Wake Tech's Medical Assisting diploma program is accredited by the Commission on Accreditation of Allied Health Education Programs (CAAHEP) upon the recommendation of the Medical Assisting Education Review Board.
Commission on Accreditation of Allied Health Education Programs
9355 113th Street N., #7709
Seminole, FL 33775-7709
727-210-2350
Graduates of CAAHEP-accredited medical assisting programs may be eligible to sit for the American Association of Medical Assistants' certification examination to become Certified Medical Assistants, or CMAs.
American Association of Medical Assistants
20 N. Wacker Dr., Ste. 1575
Chicago, IL 60606
312-899-1500 or 800-228-2262
Apprenticeships
Wake Tech's CAAHEP-accredited Medical Assisting program has an apprenticeship component, but it is not part of the accredited program. Rather, it has been designed to comply with CAAHEP Standards and Guidelines for the Accreditation of Educational Programs in Medical Assisting.
Students enrolled in a CAAHEP-accredited medical assisting program are not prohibited from working concurrently as a medical assistant in a health care environment. As a result, the apprenticeship component is a paid position that some students are completing in conjunction with the program. Wake Tech has no jurisdiction over what a student does for an outside employer. However, if a Medical Assisting student is enrolled in the apprenticeship component while completing their MED 260 Medical Clinical Practicum course, the student must be supervised and treated as student and not be substituted for staff during their clinical hours.
Medical Assisting apprenticeship students must be registered with WakeWorks®, which is a partnership between Wake Tech and Wake County to address a shortage of technical workers in the region. Apprentices can get paid while gaining nationally recognized skills and professional credentials, as well as have their tuition paid while completing their classroom training to become a medical assistant.
Program Contact: Health Sciences Admissions
Office Phone: 919-747-0402