Advertising & Graphic Design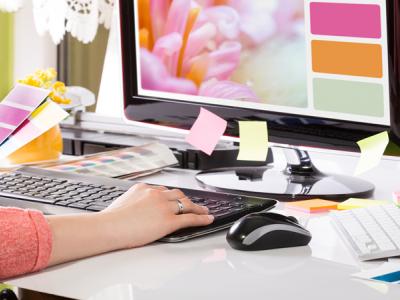 Program Contact
Alison Consol
Degrees & Pathways
AAS - Associate in Applied Science
Certificates
About The Program
Students in Advertising & Graphic Design work with computers and by hand, taking courses in design, drawing, photography, typography, web design/development, UX design, social media marketing and print production using industry-standard software tools to earn their degrees and/or certificates. The program is offered both seated and online, or you can take a combination of both formats to best fit your schedule.
You will be trained in the development of concepts and designs for promotional materials, such as posters, newspaper/magazine/online advertisements, folders, business collateral, corporate symbols and logos, brochures, booklets, websites, multimedia and the preparation of files for print or digital delivery.
Computer courses instruct using the primary industry-standard software and technologies for graphic designers – Adobe Photoshop, Illustrator, InDesign, Premiere, After Effects, Acrobat Professional and Figma, as well as coding with HTML5 and CSS3. Our program combines creativity and technology to prepare students for a variety of job opportunities in this exciting field.
Courses are offered seated at Southern Wake Campus and online. The degree and all certificates can be completed 100% online.
Graphic designers create visual concepts, by hand or using computer software, to communicate ideas that inspire, inform or captivate consumers and stakeholders. They help to make an organization recognizable by selecting color and images or designing logos that represent a particular idea, identity or brand to be used in advertising and promotions.
Each student who graduates with an AAS degree in Advertising and Graphic Design takes with them their own professional portfolio of work. Developing a high-quality professional portfolio will be essential to being successful in finding employment as a graphic designer. Keep all your course projects and assignments, including thumbnail sketches, look for freelance work or design competitions or just practice for yourself to build a body of work for our portfolio class, GRD 280. The following are examples of our graduates' portfolios:
Students who complete the Advertising and Graphic Design program will be qualified in a variety of interrelated fields, such as internal design departments of companies or organizations, web and graphic design companies, print shops, print publications or advertising and marketing companies. Many web and graphic designers are self-employed and work as freelance designers.
Our advisors in the local design community tell us that they are looking for employees who are creative problem-solvers, skilled in industry-standard computer graphics and web design software, have strong people skills to work with clients and are able to wrap it all up with creativity that raises them above the competition.
To find out more about graphic design, check out What is Graphic Design?