Green Trek is an initiative started by Wake Tech to encourage students and employees to use more sustainable forms of transportation – moving away from driving alone in cars toward carpools, buses, bicycles and walking. The goal is to reduce the number of vehicle miles traveled by decreasing the number of cars on the road.
This is a regional partnership effort that also includes GoRaleigh, GoTriangle, the North Carolina Department of Transportation and other agencies and organizations.
Explore your transportation options
Announcements
March 15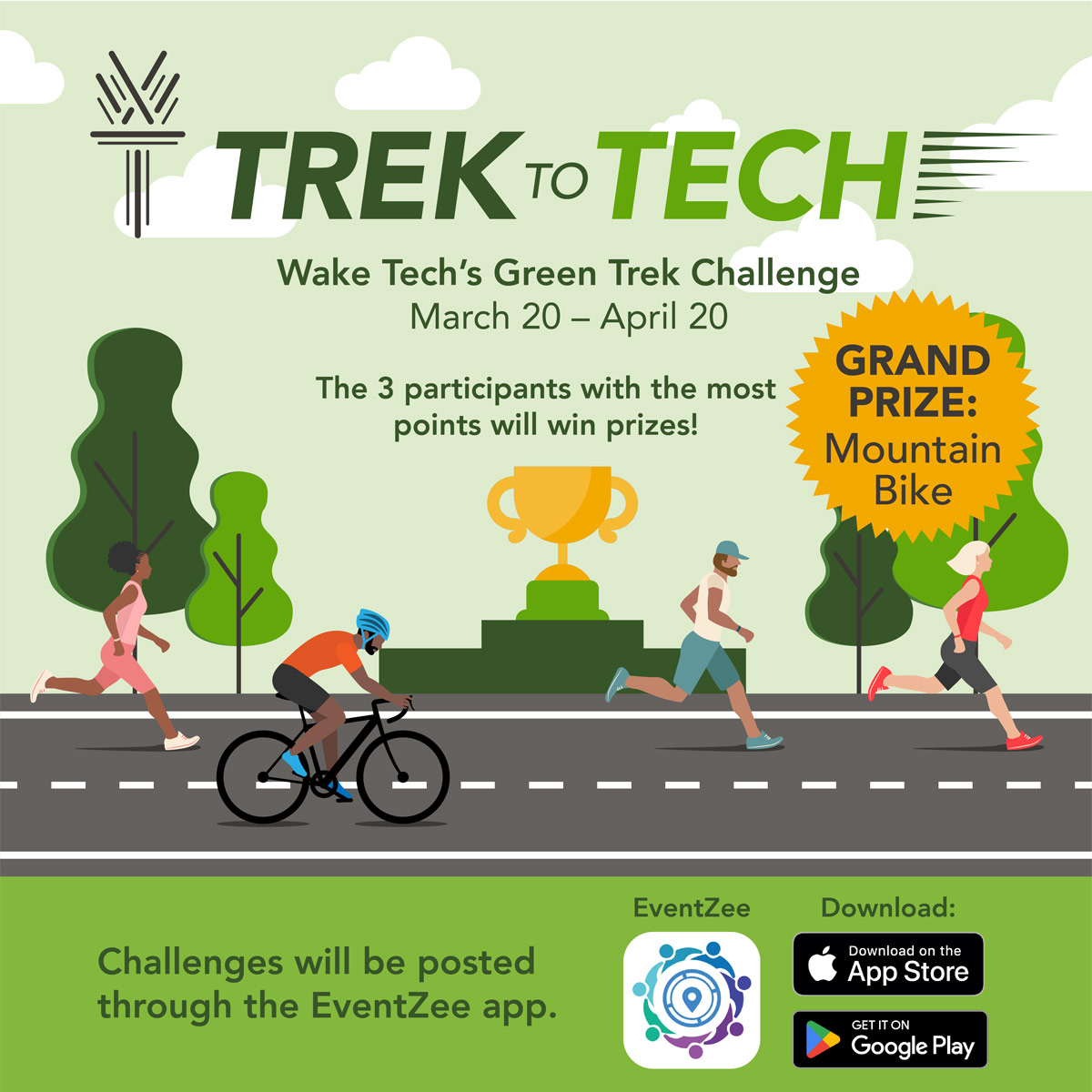 From March 20 to April 20, the Green Trek program is hosting an alternative transportation challenge in which where students and staff can track their commuting habits and engage in daily challenges for the chance to win a reconditioned Ponderosa REI Mountain Bike or other prizes.
The contest is free to enter and play. Just download the Eventzee App from the App Store or Google Play Store to a smartphone and enter the event code Trek2Tech to join.
The goal of the Trek to Tech challenge is to promote alternative transportation options to campus and get participants educated on alternative transportation at the college. So, simply choose alternative modes of transportation to earn points:
Transit/bus – 5 points
Biking – 5 points
Carpooling – 5 points
Walking – 3 points
Teleworking – 2 points
To log your transportation choice, follow the instructions on the Eventzee App. Each trip submitted does not have to be a trip to or from Wake Tech; trips can also be for daily needs, such as a doctor's appointment or a grocery store visit, but you are allowed only one submission per day.
All submissions are subject to review by the Green Trek team, and if improper game play is found, the participant will be ineligible to continue.
Other competitions will be held through the EventZee app throughout the month:
Photo competitions on Mondays and Fridays
Quizzes on Wednesdays
Scavenger hunt challenges at various times
Try to complete all the challenges to earn the most points and have the best chance to win prizes.
The Trek to Tech challenge is open only to Wake Tech students and employees. The competition closes at 6 p.m. April 20, and prizes will be awarded to the top three point-earners.
March 1
Wake Tech is in the process of replacing two of the EV chargers in Lot A at Southern Wake Campus and both chargers in Lot C at Scott Northern Wake Campus. The process is expected to take one to two months. We appreciate your patience as we get this issue fixed. You can find other EV chargers available on Southern Wake Campus and Scott Northern Wake Campus.
GoPass program
NOTE: The GoPass program at Wake Tech has been suspended until at least June 30, 2023, because all buses in the Triangle region are fare-free and do not require a pass or money to ride.