Wake Tech offers non-degree training to help you quickly learn computer programs used in today's workplaces. Condensed training taught in one- and two-day classes. 
While classes are taught at Wake Tech campuses and centers, we also can develop a course for a group and deliver that training at your office or facility.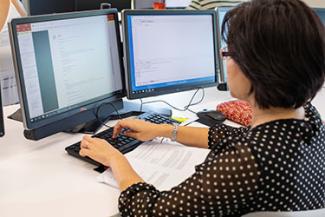 Course details and registration information
Adobe InDesign Level 1
SEF-3001ID2
1 available classes
Adobe InDesign is a desktop publishing software application used to create posters, flyers, brochures, magazines, newspapers, presentations, books and ebooks. Learn how to navigate the InDesign interface, manage page elements, and create documents using color, swatches, grad...
Adobe Photoshop Level 2
SEF-3001HY2
1 available classes
In this part 2 course, you will discuss advanced topics in Adobe Photoshop. Create images and use editing techniques to produce exciting visual effects. Professional or amateur photographers can learn to enhance, modify, and organize their photographs.
Intermediate Microsoft Excel 2019
OST-3100ADE
1 available classes
Many businesses rely on spreadsheets to manage budgets, schedules, and tracking. Microsoft Excel is considered the industry standard for spreadsheets. If you use Excel regularly and want to learn more advanced functions in this powerful software, this course is for you. You...
Microsoft Office 365/Office 2019 for Office Administration
OST-3100R2
1 available classes
Learn the technology skills for administrative office work – jobs that are in high demand by local employers! This bundled course will show you how to use Microsoft Office applications, including Word, Excel, PowerPoint, and Outlook to perform essential administrative tasks....
Adobe Illustrator Level 1
SEF-3001IB2
Adobe Illustrator is a widely popular software tool used to create vector graphics and illustrations such as, logos, icons, cartoons, and fonts. Learn how to apply design principles and elements. Discover how to create basic shapes, draw paths, insert text and apply graphic...
Adobe Illustrator Level 2
SEF-3001IC2
In this part 2 course, you will cover advanced topics in Adobe Illustrator. Explore how to combine objects to create illustrations, paint with custom brushes, set character formats and apply effects to an object. Discover how to use painting tools, manage colors, format type...
Adobe InDesign Level 2
SEF-3001II2
In this Adobe InDesign Level 2 course, you will cover advanced Adobe InDesign topics. Explore how to prepare documents for multiple formats, manage advanced page elements and styles, and build complex paths. Discover how to create interactive documents and export them for vi...
Adobe Photoshop Level 1
SEF-3001HZ2
Adobe Photoshop is a market leader in image editing, creation, and graphic software. The Adobe Creative Cloud (CC) application is commonly used in graphic design, web, and 3D projects. Gain the ability to create basic images, manage selections and layers, modify and repair i...
Alteryx and Tableau for Professionals (2 day)
SEF-3001ED2
This two-day, hands-on workshop introduces Alteryx and Tableau, two modern business intelligence tools. Participants will complete exercises to learn concepts in data preparation and visualization. The hands-on workshop is valuable for business users of Excel looking for eas...
Intermediate Dreamweaver CS6
WEB-3000LE
Take your Adobe Dreamweaver skills to the next level with more advanced web design techniques under the tutelage of a proven Web development expert. Whether you're planning a career in web design, designing a website for your business, or developing sites as a hobby, this co...