Refresh your skills. Keep current. Advance your career.
Wake Tech offers non-degree training to help you quickly learn computer software skills that are necessary for today's workplace. Condensed training taught in 1 and 2-day classes. 
While classes are taught at Wake Tech campuses and centers, we can develop a course for a group of people and deliver that training at your office or facility. 
Does your employer reimburse you for training?
Contact us to learn how to take advantage of sponsored billing. 
Elizabeth Knocklein | [email protected] | 919-866-7209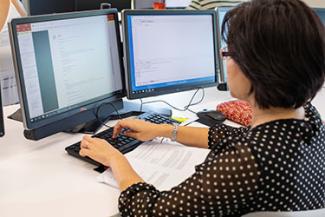 ---
Course Details & Registration Information
Project 2016, Level 1
SEF-3001AP2
This course is designed to familiarize you with the basic features and functions of Microsoft Project Professional 2016 so you can use it effectively and efficiently in a real-world environment. This level one course will introduce basic project management concepts to help...
Project 2016, Level 2
SEF-3001HK2
You will build on knowledge gained in Project Level 1 by developing skills to update a project plan, follow progress, run reports and personalize project settings. By the end of the course, you should understand how to complete projects timely, within budget, and implement p...
Visio Level 1
SEF-3001GA2
In today's workplace, visual diagrams are an essential part of communication, from road maps to sales flows to process charts. Microsoft Visio provides an intuitive, customizable tool for creating professional visual products using its extensive gallery of shapes. Learn to u...
Word 2016, Level 1
SEF-3001AG2
Microsoft Word is designed to help you create professional-level documents easily. This course will show you how to create, format, and set up a document as well as how to add graphics and tables. On completion, you will be able to accomplish basic workplace tasks in Word 20...
Word 2016, Level 2
SEF-3001AH2
This course covers some of the more advanced features of Microsoft Word 2016, including enhanced formatting, references, editing, sharing, and saving to various formats. On completion, you will be able to accomplish advanced workplace tasks in Work 2016.