Refresh your skills. Keep current. Advance your career.
Wake Tech offers non-degree training to help you quickly learn computer software skills that are necessary for today's workplace. Condensed training taught in 1 and 2-day classes. 
While classes are taught at Wake Tech campuses and centers, we can develop a course for a group of people and deliver that training at your office or facility. 
Does your employer reimburse you for training?
Contact us to learn how to take advantage of sponsored billing. 
Elizabeth Knocklein | [email protected] | 919-866-7209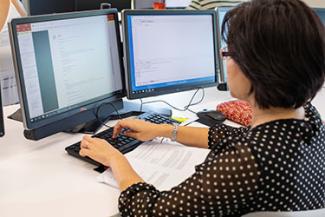 ---
Course Details & Registration Information
Excel 2016 Introduction
SEF-3001IL2
Excel is the most popular electronic spreadsheet program in the marketplace. The aim of the course is to help learners enhance their productivity skills. Learn to perform calculations, modify and format worksheets and workbooks. By the end of the class, you will have gained...
Excel 2016: Data Analysis with PivotTables
SEF-3001BD2
The Pivot Tables tool is one of the most powerful yet intimidating features in Excel. Pivot tables allow you to quickly summarize and analyze large amounts of data in lists and tables--independent of the original data layout in your spreadsheet--by dragging and dropping colu...
Excel Dashboards
SEF-3001DR2
Excel dashboards are a powerful way to leverage Excel functionality, build and manage better presentations, and improve your Excel and data visualization skills. This course builds on the Microsoft Excel Level 2 course and includes how to create advanced workbooks and worksh...
Excel Programming with VBA
SEF-3001EI2
Are you interested in designing innovative user interfaces or developing the ability to automate repetitive tasks in Microsoft Excel recording macros? This course is for you! You'll learn how to create procedures, including variables, constants, expressions, and objects; and...
Grammar Refresher Part 1
SEF-3001AV2
Gain confidence in your ability to produce clean, grammatically correct work. You'll explore the basics of English grammar--like comma rules, correct punctuation and capitalization--and lots more. Reacquaint yourself with old, forgotten rules, meet some new ones, and revisit...
Grammar Refresher Part 2
SEF-3001AU2
In this class we will pick up where we left off in Part 1. We'll begin with a self-paced quiz to review the topics from Part 1 and continue on hitting important grammar topics. Get clear on apostrophes and the who/whom dilemma, and learn more about correct comma use.We will...
Grant Writing
SEF-3001MT2
Learn the basics of grant writing. During this six-hour class, you will learn the basics of writing a grant in a hands-on, workshop-type setting. We will cover the different components of grants, examples include how to set and maintain a workable grant cycle by tracking p...
Grant Writing Level 2
SEF-3001MU2
Would you like to write a grant proposal? This course will hone the essential skills for acquiring competitive funding from government agencies or private foundations. Learn more in-depth exploration of the grants process, and have hands-on practice with researching, develop...
Introduction to Intuit QuickBooks Cloud
SEF-3001MJ2
This course is designed for those with little to no experience, who want to learn Intuit QuickBooks online software. The course focuses on user interface navigation, planning, company profile customization, opening balances, managing and recording customers, vendors, and ban...
Mastering Data Analysis with Excel 2016
SEF-3001IW2
Around the world, Microsoft Excel has become an integral part of business. It's used in organizations, academia, and personal settings to analyze, visualize, and store data. In this course, you'll use data analysis, auditing, Sparklines and forecasting. And you'll understand...