Refresh your skills. Keep current. Advance your career.
Wake Tech offers non-degree training to help you quickly learn computer software skills that are necessary for today's workplace. Condensed training taught in 1 and 2-day classes. 
While classes are taught at Wake Tech campuses and centers, we can develop a course for a group of people and deliver that training at your office or facility. 
Does your employer reimburse you for training?
Contact us to learn how to take advantage of sponsored billing. 
Elizabeth Knocklein | [email protected] | 919-866-7209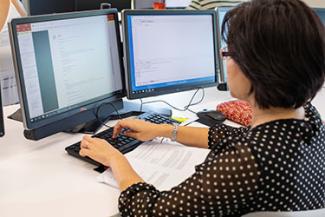 ---
Course Details & Registration Information
Adobe InDesign Level 1
SEF-3001ID2
1 available classes
Adobe InDesign is a desktop publishing software application used to create posters, flyers, brochures, magazines, newspapers, presentations, books and ebooks. Learn how to navigate the InDesign interface, manage page elements, and create documents using color, swatches, grad...
Adobe InDesign Level 2
SEF-3001II2
1 available classes
In this Adobe InDesign Level 2 course, you will cover advanced Adobe InDesign topics. Explore how to prepare documents for multiple formats, manage advanced page elements and styles, and build complex paths. Discover how to create interactive documents and export them for vi...
Adobe Photoshop Level 1
SEF-3001HZ2
2 available classes
Adobe Photoshop is a market leader in image editing, creation, and graphic software. The Adobe Creative Cloud (CC) application is commonly used in graphic design, web, and 3D projects. Gain the ability to create basic images, manage selections and layers, modify and repair i...
Better Business Writing, Level 1: How to Sharpen Your Writing Style
SEF-3001AO2
1 available classes
Strengthen your writing by eliminating wordiness and writing more concisely. Plan your business documents to save time rewriting. With writing exercises and interactive quizzes, you'll learn the difference between active and passive voice and when to use each - and much more...
Computer Basics for Plus 50
CSP-4000JV2
1 available classes
Are you thinking about getting a new computer or upgrading to Windows 10? Computer Basics is for the inexperienced or novice adult user. By the end of this class students will have experience using the Microsoft Windows Operating system.
Electronic Notary
SEF-3001EG2
3 available classes
This process allows a notary to affix an electronic signature and notary seal that are legally binding. Participants will learn the electronic requirements to perform notary duties legally and ethically.
Grammar Refresher Part 1
SEF-3001AV2
1 available classes
Gain confidence in your ability to produce clean, grammatically correct work. You'll explore the basics of English grammar--like comma rules, correct punctuation and capitalization--and lots more. Reacquaint yourself with old, forgotten rules, meet some new ones, and revisit...
Grammar Refresher Part 2
SEF-3001AU2
1 available classes
In this class we will pick up where we left off in Part 1. We'll begin with a self-paced quiz to review the topics from Part 1 and continue on hitting important grammar topics. Get clear on apostrophes and the who/whom dilemma, and learn more about correct comma use.We will...
Notary Public Education (Book Included)
SEF-3001O2
9 available classes
This course is approved by the Secretary of the State of North Carolina to train, test, qualify, and commission NC notaries. Students will learn the legal, ethical, and procedural requirements for notaries based on North Carolina law. This class includes the required Notary...
Access 2016 Level 3
SEF-3001MQ2
Expand your knowledge of relational database design using Access 2016. In this course, you will learn how to write advanced queries, structure existing data, validate data entered into a database, and customize reports. On completion, you should be comfortable working with f...