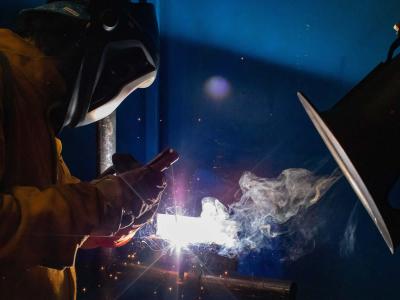 Program Contact
Jonathan Lowery
Degrees & Pathways
AAS - Associate in Applied Science
Diploma
Certificates
About The Program
Welding is the process by which metals are permanently joined together using heat and/or pressure. Welders make almost every product we use each day – as well as the equipment and factories that make non-metal products. Welders are the backbone of the industrial world, and they are in short supply. Skilled, knowledgeable welders are in high demand, making job opportunities plentiful. The Welding Technology program offers classes on Southern Wake Campus and at Vernon Malone College & Career Academy and will soon offer classes on Scott Northern Wake Campus.
The Welding Technology curriculum at Wake Tech teaches students the science behind welding. Coursework is designed to help students develop practical welding skills that can be used to pursue employment and career opportunities in the welding industry.
Hands-on training includes:
Mig
Tig
Stick
Pipe
Orbit welding
Cutting processes
Testing and inspection
Fabrication
Symbols and specifications
Coursework may include:
Math
Reading blueprints
Metallurgy
Welding inspection
Destructive and non-destructive testing
Scholarship Information:
Employment
Welders can find employment in fabrication shops, structural welding (buildings and bridges), pipe welding (chemical and nuclear power plants), aircraft, robotics and weld-employment. Welders can also own their own businesses.
Graduates of Wake Tech's Welding Technology program may be employed as entry-level technicians in welding and metalworking industries. Career opportunities also exist in construction, manufacturing, fabrication, sales, quality control, supervision and welding-related self-employment. 
Many local companies hire Wake Tech graduates, including John Deere Turf Care, Morris and Associates, Apex Steel, Buhler Aeroglide Corporation, Edwards Crane Service, Atlantic Coast Mechanical and more.