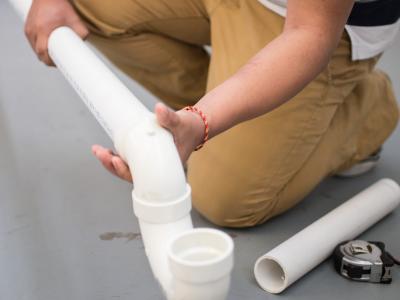 Program Contact
James Freeman
About The Program
Wake Tech's Plumbing program provides students with the basics of installing and repairing plumbing systems – water pipes and drains – in residential and commercial buildings. Plumbers work inside and outside and must be able to relate to customers. They must also be creative, able to think through problems and recognize that every job is unique.
Coursework includes sketching diagrams, interpreting blueprints and practicing plumbing assembly. Students will learn about state codes and requirements and get an in-depth look at plumbing systems and their design and installation. Representatives from local plumbing companies and other industry experts will address students and offer opportunities for certification in various products available on the market today.
Students will acquire skills in soldering, blueprint reading, codes, layout of systems and assembly of all types of piping – including cast iron – pipe sketching and threading pipes. Students must also have had an introduction to water heaters, water pumps, water treatment, septic tanks, community water, fixtures, faucets, valves and other appliances. The one-year diploma program is recommended.
To become a Master Plumber, a student must complete at least 4,000 hours of training in the Wake Tech Plumbing diploma program and on the job. Math and science classes, especially physics, are also recommended.
Hands-on training includes the following:
Sketching diagrams
Interpreting blueprints
Practicing plumbing assembly
Water heaters and water pumps
Plumbing design
Water treatment
Septic tanks
Community water
Fixtures, faucets and valves
State codes and requirements
Fundamental competencies, which address soft skills vital to employability, personal and professional success, include the following:
Interpersonal skills and teamwork
Communication
Integrity and professionalism
Problem solving
Initiative and dependability
Information processing
Adaptability and lifelong learning
Entrepreneurship
Employment
A variety of plumbing jobs are available in residential, commercial and specialized plumbing. Residential plumbing is usually categorized into repair plumbing and rough-in plumbing for residential facilities. Commercial plumbing includes large apartments and industrial buildings rough-in on slab. Specialized plumbing systems are those installed in restaurants, schools, gas stations, food processing buildings, etc. High-pressure plumbing, such as car wash equipment, also offers job opportunities, and jobs are also available in state and local government.
Plumbers are in great demand, especially in the Triangle, due to the area's growth. Plumbing is a major construction trade and a demanding field. It provides hands-on work for innovative thinkers, along with the opportunity to have pride in specialized skills and earn a good income. Graduates usually start at $12 an hour; within five years, they can reach $20 an hour. Some get licensed within two years, after which wages may continue to increase. Graduates can earn $20,000 to $22,000 in the beginning. Those who earn a license within two years may see their income continue to rise.
Almost all plumbing/pipe companies in the Triangle area have hired Wake Tech graduates, including J & L Plumbing, Noland Company, Southern Piping Company, American Plumbing, Rural Plumbing, Duke Raleigh Hospital, Stevens Plumbing, the University of North Carolina, state government, the City of Raleigh, Roto-Rooter, Evans Plumbing, Johnson Controls and many more.