Turning on the Heat in High School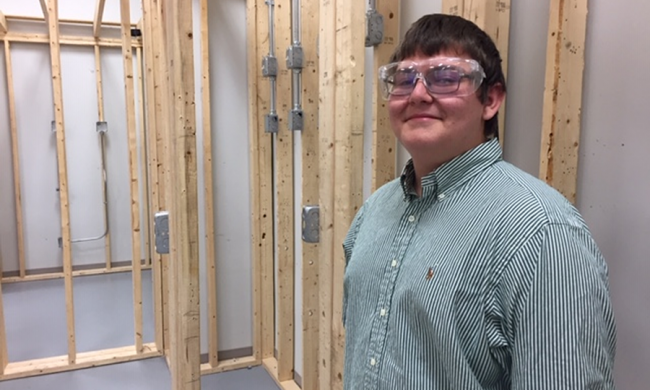 Chris Mason
Class of 2019
Area of Study
Air Conditioning, Heating, & Refrigeration Technology
"The first two years were tough, but then everything clicked."
— Chris Mason
Vernon Malone College and Career Academy (VMCCA) graduate Chris Mason is excited about the next steps on his journey. He received his high school diploma this spring and is signed up at Wake Tech in the Fall where he has already earned 29 credit hours. On top of it all, his internship with Piedmont Service Group, a leading commercial HVAC company based in Raleigh, has turned into a full-time job. 
It's been quite a turnaround for Chris, who admits that the road to get to this point had some bumps along the way. "I just couldn't sit still," he said. His middle school counselor suggested Vernon Malone, a Wake County Cooperative Innovative High School, might be a good fit for him. Vernon Malone offers technical training and opportunities to earn college credit in several Wake Tech programs including biotechnology, cosmetology, and simulation and game development. 
Chris chose to focus on HVAC, which gave him a rigorous school schedule that began with two early morning Wake Tech classes each day. "It's a program where you can learn the basics and develop technical skills," says Chris. "The first two years were tough, but then everything clicked." It all clicked so well that he landed an internship with Piedmont Service Group.   
Chris says Piedmont is committed to making sure that its HVAC interns are job-ready when they graduate. He credits his manager for taking a personal interest in his success. "He's there to support us. He helps by giving us a push when needed," Chris added. 
The training he received at Piedmont and at Vernon Malone gave him poise and more self-confidence. That confidence led to his participation in statewide competitions through Skills USA, an organization for career and technical students and instructors across the country. This spring he competed at the Skills USA Regionals in Fayetteville and took home a first place award! " I never thought I'd be able to do something like this!" he says.
Where does Chris see himself in five years? "Working my way up the ladder with HVAC at Piedmont. And more training at Wake Tech so it will give me a chance to continue to complete my degree, to become a manager, and possibly--a senior manager some day."