A Cut Above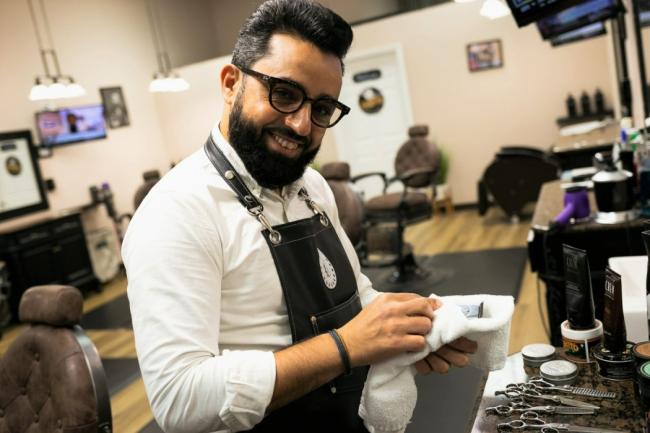 Zine Soussi
Class of 2017
Favorite Aspect of Wake Tech
Affordable classes
Career Goals
Open a barbering academy
"My long-term goal is to grow the business, hire more graduates and eventually open an academy for aspiring barbers."
— Zine Soussi
Zine Soussi, a father of four, worked his whole life to finally see his childhood dream become reality. In 2019, Zine opened his own barber shop, Chicut Barber Studio, in Cary after graduating from Wake Tech's Barbering School.
As a child growing up in Morocco, Soussi loved experimenting with gel, edges and clippers to shape and cut hair. He would often cut his own hair to save money for his family. In the process, barbering quickly became a passion. During that time, a close friend of Soussi's showed him, firsthand, how he could pursue his aspirations professionally by opening his own barber shop. Ever since, Soussi has been determined to achieve this goal.
Years later, Soussi and his family moved to the United States and settled in North Carolina. He wanted to pursue his passion of becoming a barber, but he was concerned that he wouldn't be able to afford barbering school. He began working extra hours as a bus driver to save up funds for school, and, one night, he received an email about the barbering program at Wake Tech. "When I saw the prices, I couldn't believe they were real," said Soussi. "I had to check my phone twice!"
Soussi enrolled at Wake Tech and quit his bus driving job to concentrate on schoolwork. Six months into the barbering program, he decided to add massage therapy to the mix. "I also took a few business courses to learn about starting and operating a barbershop," Soussi says. "It taught me where to start – how to make a business plan, how to finance things and what to do with all these crazy numbers." Fourteen months later, he graduated from both programs and began working at two barbershops. "I worked seven days a week," he says. "I wanted as much experience as possible."
In three years, Soussi felt he had enough savings and experience to open his own shop, and before long, Chicut Barber Studio opened. "I made it a priority to ensure that the environment was nice, clean and relaxing," he says. "I wanted people to love the atmosphere and love the results of their haircut."
After acquiring a loyal following, Chicut was hit hard by the COVID-19 pandemic and was forced to shut its doors for a period of time. Thankfully, the community Soussi had established was very supportive: The shop not only reopened, but its reputation brought in even more loyal clients, and news of its quality of work continued to spread. Chicut has become a local favorite and has been featured in Cary Magazine.
Soussi was able to make his lifelong dream come true, and his ultimate goal is to help others do the same. He now has six employees and partners with Wake Tech to offer apprenticeship opportunities to barbering students and to give back to his community.
"My long-term goal is to grow the business, hire more graduates and eventually open an academy for aspiring barbers," Soussi says. "You learn more in the shop than you can 'on paper,' and I want to provide opportunities for that. I want to be there for people who need a little help."