Science, Technology, Engineering & Math
STEM education extends through the University Transfer; Health Sciences; Biotechnology; Building, Engineering and Skilled Technologies; and Information Technology programs. These programs provide comprehensive instruction that integrates science, technology, engineering and math throughout the curriculum and offer students a variety of avenues for learning to think critically and creatively.
STEM education prepares students to address the increasingly challenging issues of a global community.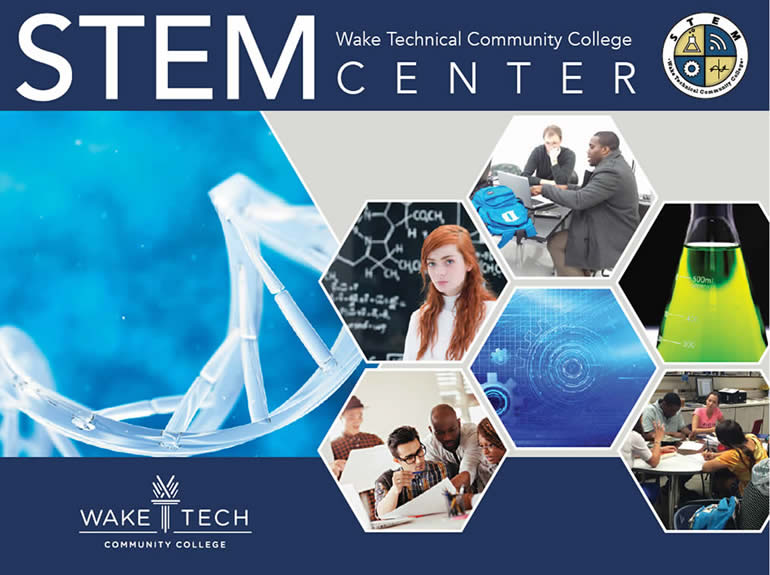 In learning how to apply scientific principles, analyze and interpret data and interpret findings, students acquire the tools to solve the most complex problems. They may choose to study engineering or computer sciences and learn to use mathematics to model social and scientific phenomena. Students build confidence in their abilities and are encouraged to apply what they learn and take bold, innovative steps. STEM studies set the stage for lifelong learning.
STEM education also helps students build a foundation for exciting, rewarding careers in the fields of science, technology, engineering and mathematics and assume leadership roles in their chosen professions and communities. STEM education at Wake Tech provides all students with the real-world knowledge and practical experience needed to become informed citizens and good stewards of community resources.
STEM at Wake Tech
Wake Tech offers STEM centers and labs on four of its campuses, collaborative environments where students can work together, share ideas and support each other, as well as interact with faculty members and other professionals.
The START program (STem Academic Research and Training) gives students the opportunity to participate in faculty-mentored research projects. The hands-on research and engagement will enrich their academic experience, further develop their technical skills and increase their ability to be competitive in higher education and the STEM workforce.
Wake Tech also offers special events and a variety of STEM-related clubs and organizations in which students can participate.
Check out the various STEM-based academic programs at Wake Tech: