Summer 2022 schedule
In Summer 2022, we are offer both virtual and in-person options. STEM Centers are open to any Wake Tech student taking an astronomy, biology, chemistry, geology, math or physics course.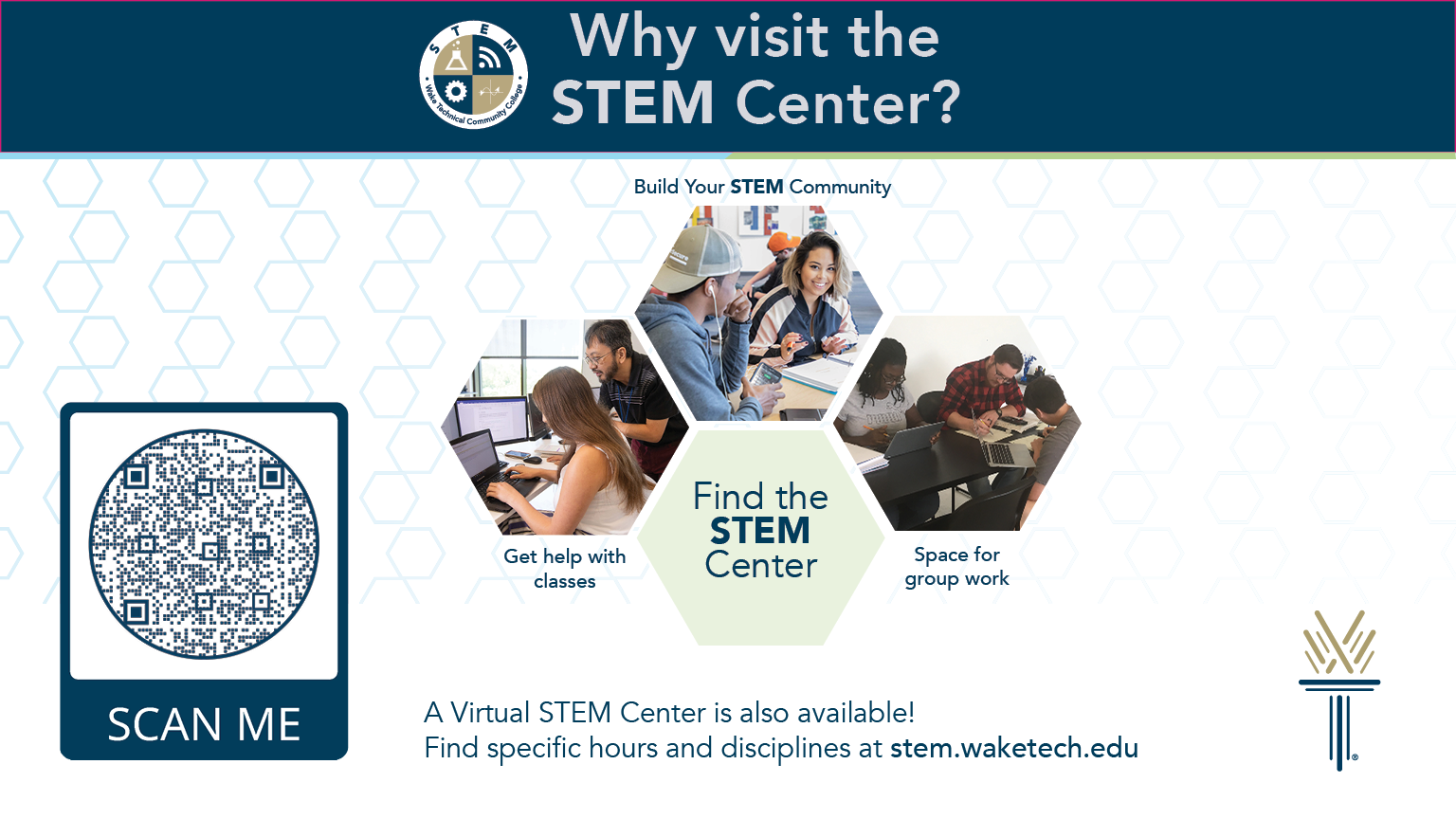 Virtual
The Virtual STEM Center will offer drop-in, just -in-time support Monday through Friday from 7 a.m. to 11 a.m. and 2 p.m. to 7 p.m. Please see the Summer 2022 STEM Center schedules to determine when a faculty member will be available in the center to help with particular topics.
We will be using Microsoft Teams as the virtual platform. To access the STEM Center, you must be a member of the STEM Center MS Teams site.
In-person
Socially-distanced, in-person STEM Center assistance will be offered according to the posted schedules, typically 9 a.m. to 4 p.m., but vary by campus. Make sure to check the schedules.
STEM Centers are located on the Perry Health Science Campus, (Building D, Room 212), RTP Campus (Building 1, Room 302), Scott Northern Wake Campus (Building D, Room 360) and Southern Wake Campus (Building D, Room 212).
If you have any questions, please email James Hedges at [email protected].
STEM Centers
Wake Tech's STEM Centers offer a comfortable, collaborative environment where students can work together, share ideas and support each other in the study of science, technology, engineering and mathematics. The centers have wireless access, space for study groups and plenty of whiteboards for unraveling difficult concepts and exploring possibilities.
STEM Centers were established as a resource for students in the STEM fields, providing opportunities for them to interact with faculty members and other professionals as well as peers. At the centers, students can find tutoring assistance, impromptu advising and insights into career options. They can learn firsthand what it's like to be a biologist or physicist or engineer. 
STEM Labs
Wake Tech's STEM Labs enhance the learning experience with a hands-on approach. Computers are available for learning more about specific software, and whiteboards allow for troubleshooting and project planning. The lab setting encourages conceptual development through direct applications and targeted problem-solving. Have a problem you can't solve? Visit a STEM Lab.