Wake Tech offers a variety of world languages, with levels from beginner to advanced. Friendly teachers, small class sizes and online learning options make getting started easier than ever.
Classes are available for the following languages:
Spanish
French
Italian
German
Chinese
Korean
Portuguese
Russian
Arabic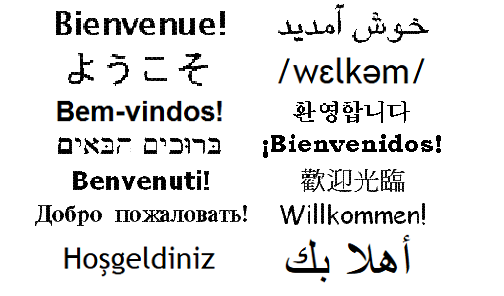 Looking for a private class for your group? We can tailor our courses to meet the unique needs of your business, church, civic or social group.
For more information, email [email protected].
Course details and registration information
Click on a button to find out what classes Wake Tech offers in each language and how to sign up.
Portuguese Beginning Part 1
CSP-4000JX2
Discover a fun and interactive introduction to basic components of the Portuguese language. Content includes grammar and vocabulary for handling social situations such as introductions, ordering in a restaurant, checking into a hotel, and more. Successful completion of thi...
Portuguese Beginning Part 2
CSP-4000JY2
Part 2 in this series offers fun, interactive lessons to help you build confidence and fluency in Portuguese. You'll learn how to communicate in social situations - describing activities, making plans, and expressing feelings and preferences. You'll also learn verb tenses fo...
Russian Fundamentals
SEF-3001DL2
Learn the Russian language in a fun and friendly course that focuses on practical use. Designed for beginning-level students, the course consists of conversational Russian in daily situations, from common workplace terminology to ordering at restaurants and conversing while...
Russian Fundamentals Part 2
SEF-3001EU2
This course is designed for students who know the Russian alphabet, the main rules of pronunciation and reading, and how to generate basic phrases. The explanatory style of the course is simple and provides numerous examples to illustrate points of grammar as they arise. The...
Spanish for Construction
FLI-3701E2
Acquire the Spanish language skills you need for communicating on a construction job site. Lessons include practical, non-academic methods that are ideal for construction supervisors and their employees. Participants will practice speaking and listening to Spanish commands,...
Spanish for Construction Part 2
SEF-3001OL2
Continue working on the Spanish you need for communicating clearly and appropriately on the construction site. In the second course in this two-part series, you'll learn practical language that can be used immediately. The course also includes important cultural information...
Spanish for Medical Professionals
FLI-3717WE
What do you do if a patient needs your help, but you can't understand them? What if you encounter worried family members, but aren't able to reassure them that everything will be fine? Those in the medical field can easily find themselves in such situations, and you want to...
Spanish for Social Services
SEF-3001AP
This self-paced, online course is designed for social workers, counselors, non-profit staff, ministers, and anyone working with Spanish-speakers in an outreach capacity. In addition to basic greetings and general Spanish vocabulary, you'll learn how to talk about job titles,...
Spanish Immersion Spanish Movie Night
CSP-4000AO2
Attention movie lovers! This immersion course is an excellent way to learn and practice Spanish conversation and comprehension skills. In each class you will view a Spanish film with English subtitles, then discuss it in Spanish. The course is designed for students with an a...
Spanish Intermediate Part 1
FLI-3717T3
This is the first course in a three-part series for intermediate students. You'll further your Spanish language skills through writing, reading, having conversations, and giving presentations. Homework and class participation are included to reinforce language skills.
Frequently asked questions