Refresh your skills. Keep current. Advance your career.
Wake Tech offers non-degree training to help you quickly learn computer software skills that are necessary for today's workplace. Condensed training taught in 1 and 2-day classes. 
While classes are taught at Wake Tech campuses and centers, we can develop a course for a group of people and deliver that training at your office or facility. 
Does your employer reimburse you for training?
Contact us to learn how to take advantage of sponsored billing. 
Elizabeth Knocklein | [email protected] | 919-866-7209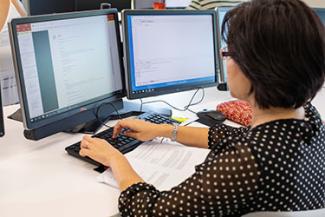 ---
Course Details & Registration Information
Microsoft Excel 2016 Level 1
SEF-3001JR2
Microsoft Excel is a globally-used program essential for business and academic settings. This is the first course of a three-part series. Participants will be able to use common terms, create and modify worksheets and workbooks, and perform basic calculations.
Microsoft Excel 2016 Level 3
SEF-3001JT2
Microsoft Excel has become an integral part of business around the world. It is used in organizations, academia, and personal settings to analyze, visualize, and store data. Learn how to use data analysis, auditing, Sparklines, and forecasting in Excel. You will also learn h...
Microsoft Office 365 Web Apps
SEF-3001HL2
Office 365 is a subscription-based, cloud environment. The online platform includes Microsoft Office applications, productivity apps, and Skype for Business as an online audio/video meeting tool. You will discover how to collaborate and communicate online.
Microsoft Teams Level 1
SEF-3001MY2
Microsoft Teams enables individuals and organizations to chat, share ideas, collaborate on files, and essentially, work together. You can use Teams to have a quick chat with a colleague, participate in a virtual meeting, make an online call, and share files and resources. St...
Microsoft Windows 10, Level 1
SEF-3001MP2
Do you need to improve your computer skills? This course is for you – even if you have little or no computer experience. Learn to use Microsoft Windows 10 to understand the basics of computer hardware, software, and accessories.
OneNote Level 1
SEF-3001GC2
In a fast-paced, digital world, the need to capture ideas and to-do lists is ever present. Microsoft Office OneNote allows you to create and collect notes efficiently in an electronic notebook. In this course you'll learn how to use OneNote to access content (from anywhere),...
PowerPoint 2016, Level 1
SEF-3001AM2
PowerPoint is a computer program that allows you to create and show slides to support a presentation. You can combine text, graphics and multi-media content to create professional presentations. Students will learn how to create navigate, format, and customize a presentatio...
PowerPoint 2016, Level 2
SEF-3001AK2
This course provides advanced concepts and skills for PowerPoint 2016. Students will learn how to use advanced formatting features, and animation and transition techniques, add and format media, track corrections and work with multiple presentations, create custom slide sho...
Project 2016, Level 1
SEF-3001AP2
This course is designed to familiarize you with the basic features and functions of Microsoft Project Professional 2016 so you can use it effectively and efficiently in a real-world environment. This level one course will introduce basic project management concepts to help...
Project 2016, Level 2
SEF-3001HK2
You will build on knowledge gained in Project Level 1 by developing skills to update a project plan, follow progress, run reports and personalize project settings. By the end of the course, you should understand how to complete projects timely, within budget, and implement p...