Advanced Manufacturing Career Field
Welcome to the innovative field of advanced manufacturing – industrial automation, hydraulics, circuit board technology, collaborative robotics, microelectronics and 3D printing. Become an expert in using advanced technologies to develop custom, high-quality parts, from electric vehicles to pharmaceuticals to medical equipment and devices.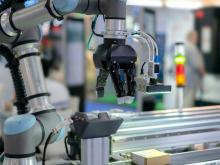 Short training courses can provide certifications in industrial automation, collaborative robotics and manufacturing production.
Financial Aid
Yes, learn more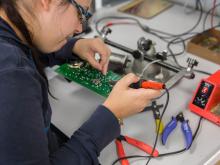 The Electronics Engineering Technology program prepares students to design, build, install, test, troubleshoot, repair and modify electronic components, equipment and systems.
Degrees & Pathways
AAS - Associate in Applied Science
Certificates
Financial Aid
Find out more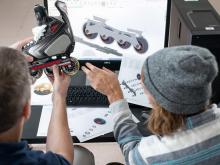 The Mechanical Engineering Technology program covers applied mechanics, manufacturing methods and processes, computer usage, computer-aided drafting, mathematics, physics and oral and written communications.
Degrees & Pathways
AAS - Associate in Applied Science
Certificates
Financial Aid
Find out more