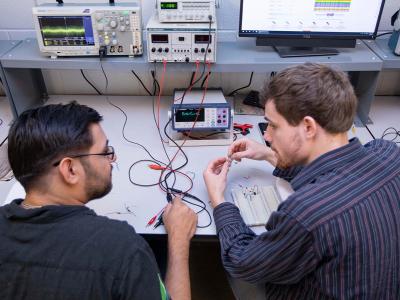 Program Contact
Christopher Irwin
Degrees & Pathways
AAS - Associate in Applied Science
Certificates
About The Program
Overview
The Electronics Engineering Technology curriculum prepares individuals to become technicians who design, build, install, test, troubleshoot, repair, and modify developmental and production electronic components, equipment, and systems such as industrial/computer controls, manufacturing systems, communication systems, and power electronic systems.
---
Education
A broad-based core of courses, including basic electricity, solid-state fundamentals, digital concepts, microprocessors, microcontrollers, and programmable logic controllers ensures the student will develop the skills necessary to perform entry-level tasks. Beyond the core courses, topics include communication systems and industrial control systems with emphasis placed on analyzing and troubleshooting electronic systems.
---
Employment
Graduates should qualify for employment as engineering assistants or electronic technicians, with job titles such as electronics engineering technician, field service technician, maintenance technician, electronic tester, electronic systems integrator, bench technician, and production control technician.