Simulation and Game Development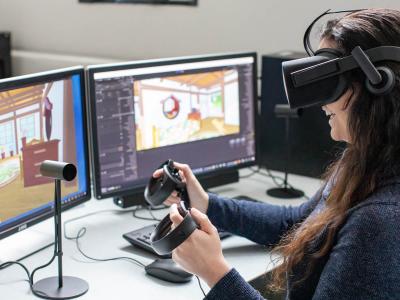 Program Contact
Ken Turner
Degrees & Pathways
AAS - Associate in Applied Science
Certificates
About The Program
Wake Tech's Simulation and Game Development (SGD) program provides students with a broad background in the simulation and video game industry. The curriculum includes practical applications in creative arts visual arts, 3D modeling, animation, design, programming and project management.
The program is guided by an advisory board that includes representation from the many simulation and video game companies in the area. Students receive practical training in the use of industry-standard software, providing them with the skills necessary to succeed in this highly competitive field.
Courses are designed to give students a broad understanding of all facets of video game design, while also allowing them to focus on honing the skills best suited to their abilities and maximize their potential. Classes are project-oriented, helping students build a portfolio of work to take with them as they enter the job market. The program's goal is to ensure that graduates have the knowledge and practical skills to compete and thrive in the simulation and game industry.
The Simulation and Game Development Department offers a two-year Associate in Applied Science degree and a variety of certificates in simulation and game development. Both daytime and evening classes are available. Most classes are offered in a seated or hybrid format to allow students to take advantage of hands-on guidance from faculty with industry experience.
Unreal Academic Partner
Wake Tech's Simulation and Game Development curriculum is an official Unreal Academic Partner. Our department is one of only two Unreal Academic Partners in North Carolina and the only community college program that is recognized in the world!
The Unreal Academic Partner program recognizes universities and schools that have committed to providing high-quality educational opportunities with an experienced faculty, proven curricula, sufficient facilities and resources to create positive outcomes for students with a variety of personal growth and career objectives. Being an Unreal Academic Partner means that Epic will help empower your program with transferable skills that increase your student's potential in a globalized economy.
Job opportunities
Graduates should qualify for employment as testers, quality assurance analysts, artists, animators, programmers, designers, engineers, and administrators. Jobs are available in the entertainment industry, health care, education, corporate training, and government organizations.