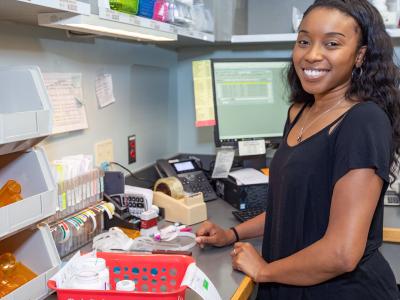 Program Contact
Shannon Natale
Degrees & Pathways
AAS - Associate in Applied Science
About The Program
Pharmacy technicians assist and support licensed pharmacists in providing prescription medications, over-the-counter drugs, medical equipment and supplies, pharmaceutical care services and other health care products and services for patients.
The Pharmacy Technology curriculum is composed of classroom, laboratory and clinical components to prepare individuals to assist pharmacists in duties that a technician can legally perform and to function within the boundaries prescribed by the pharmacist and the employment facility, including the following:
Prescription medications
Over-the-counter drugs
Pharmacology
Medication uses and indications
Medication therapies for prevention and treatment
Pharmacokinetics and pharmacodynamics
Drug interactions and side-effects
Pharmaceutical calculations
Sterile intravenous admixture compounding
Non-sterile medication compounding
Medication dosage forms and administration
Controlled substance procedures and management
Pharmacy purchasing and inventory management
Clinical pharmacy services
Pharmacy law, regulations and standards
Professional ethics
Pharmacy Technology classes are held at the Perry Health Sciences Campus, next to WakeMed's flagship hospital in Raleigh.
Clinical experience
The purpose of clinical experience is to allow students to work in pharmacy settings under the supervision of licensed pharmacists and alongside certified pharmacy technicians. Clinical experience takes place in hospitals and medical centers, in community and outpatient pharmacies and in specialty pharmacies. Students also research and observe compounding, long-term care, home infusion, nuclear and central community pharmacies.
The associate degree program is offered as an option for students who wish to pursue an academic program comprised of general education courses as well as pharmacy technician basics. The degree also offers options to students who plan to use it as the foundation for further education. The program strives to balance technical training and classroom instruction in order to gain the knowledge and skills necessary to meet the needs and goals established by the pharmacy profession.
Employment
Pharmacy technicians are in high demand in the health care and pharmaceutical care industries. With a larger and older population, advances in science and increases in medication availability and usage, the demand for pharmacy technicians in all practice settings will likely increase and their roles expand. As health care becomes more technically complex, the need for educated, skilled and competent support personnel will become more important.
Federal and state laws and regulations and professional standards govern the use of technicians in pharmacies and the requirements for certification and training. More states and employers are requiring certification and training to decrease medication errors and improve the quality of services provided. Most hospitals and community pharmacies in the Wake Tech area require certification for employment.
Registration and certification requirements
The North Carolina Board of Pharmacy requires the following to register as a pharmacy technician:
Hold a high school diploma or equivalent or is currently enrolled in a program that awards a high school diploma
Employed by a pharmacy holding a valid in-state pharmacy permit
Complete a training program approved by the supervising pharmacist-manager that includes pharmacy terminology, pharmacy calculations, dispensing systems and labeling requirements, pharmacy laws and regulations, record keeping and documentation and the proper handling and storage of medications or hold a current pharmacy technician certification issued by the Pharmacy Technician Certification Board
Pay a $30 annual registration fee
The Pharmacy Technician Certification Board (PTCB) requires the following for certification:
Hold a high school diploma or equivalent educational diploma
Completed a PTCB-recognized education or training program or equivalent work experience
Full disclosure of all criminal and State Board of Pharmacy registration or licensure actions
Compliance with all applicable PTCB certification policies
Passing score on the Pharmacy Technician Certification Exam
Pay $129 for examination and $40 every two years to renew certification (20 hours of continuing education also is required for renewal)