Electrical Systems Technology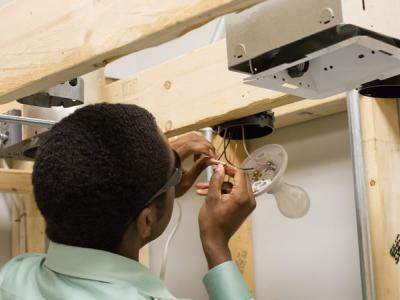 Program Contact
Juan Benitez
Degrees & Pathways
AAS - Associate in Applied Science
Diploma
Certificates
About The Program
The Electrical Systems Technology (EST) curriculum is designed to provide training for persons interested in the installation and maintenance of electrical systems found in residential, commercial and industrial facilities. The curriculum is based on the assumption that a student has no prior knowledge or experience in electricity or electronics. The Electrical Systems Technology faculty are licensed electricians and bring a rich and diverse set of field experiences to the classroom, adding to the educational experience for students. Scholarships are available for qualified individuals.
Education
EST offers three programs of study: Associate in Applied Science (AAS) degree, diploma and certificate. These credentials are "stackable," so there is no repetition of coursework. AAS degree and diploma courses are offered only during the day; certificate courses are offered in the evening. We offer both Fall and Spring start options.
Certificate courses cover the installation and maintenance of electrical systems found in residential and commercial applications and include the National Electrical Code requirements. No general education courses are required for the certificate. These classes are also offered at Vernon Malone College & Career Academy.
Diploma courses expand knowledge to industrial applications, DC and AC electrical theory, electrical calculations, operation of motors and motor controls, programmable logic controllers, transformer applications and renewable energy associated with electrical equipment. Six hours of general education are required for the diploma.
AAS courses expand knowledge to electrical estimating and photovoltaic systems. Sixteen hours of general education are required.
Hands-on training includes the following:
AC/DC theory
Residential, commercial and industrial wiring practices
Programmable logic controllers
National Electric Code
Industrial motor controls
Photovoltaic wiring practices
Emphasized soft skills include the following:
Communication: Entry-level electricians must be able to communicate with their co-workers and supervisors. As job responsibilities and opportunities increase, so must communication skills. Poor skills can result in lack of advancement opportunities.
Proper English usage, grammar and spelling: These skills are an important part of communication and, as stated above, coincide with job advancement opportunities.
Human relations: Electricians must be able to get along with co-workers, supervisors and customers.
Math: Entry-level electricians need a good understanding of general math, basic algebra and basic trigonometry.
Upon completion:
Completing the EST diploma program allows you to sit for the City of Raleigh Journeyman's exam. The North Carolina Board of Examiners of Electrical Contractors requires two years (4,000 hours) of primary experience or a combination of primary and secondary experience to take the electrical contractor's exam. Graduates from the diploma program can obtain credit toward a licensing exam for "Secondary Experience" as outlined by the Board of Electrical Contractors rules.
For more information, contact Juan Benitez at [email protected].
Employment
The electrical industry prefers workers with education and training from a technical school at the diploma or AAS degree level, or work experience. Graduates of Wake Tech programs should qualify for a variety of jobs in the field as on-the-job trainees or apprentices assisting in the layout, installation, and maintenance of electrical systems. Employment opportunities include but are not limited to electrical installation and maintenance of residential, commercial, and industrial wiring systems; data communication and fire alarm systems; electrical machines and equipment; control systems; and other systems utilizing electrical power. Graduates can also work toward an electrical contractor's license, enabling them to operate their own businesses.
Graduates are employed based on their abilities and experience, and starting salaries range from $12 to $16 per hour. All areas have advancement potential as well as overtime opportunities, and salaries can rise rapidly as skills and experience improve.
Certification and licensure are available through outside entities: a City of Raleigh Journeyman's Electrician Certification, a North Carolina Electrical Contractor's License, and North American Board of Certified Energy Practitioners Certifications.