Biopharmaceutical Technology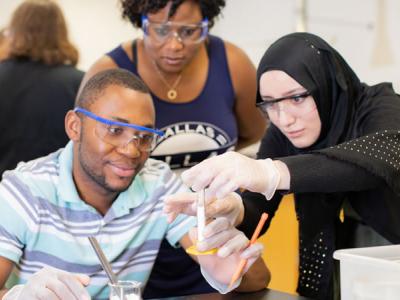 Program Contact
Edward Garner
Degrees & Pathways
AAS - Associate in Applied Science
Certificates
About The Program
The Biopharmaceutical Technology curriculum is designed to prepare individuals for employment in pharmaceutical manufacturing and related industries. Major emphasis is placed on manufacturing processes and quality assurance procedures.
A student wishing to enroll in the Biopharmaceutical Technology curriculum must meet the following standards:
Demonstrate problem-solving skills involving basic math, the use of a calculator and the ability to interpret word problems
Communicate clearly (orally and in writing) in order to relay information to the appropriate individuals
Read and correctly carry out written instructions in class and in lab exercises
Understand and correctly carry out oral instructions
Work independently or in teams
Pay attention to detail
Conduct himself or herself in a professional manner
Deal with other students and instructors with patience and tolerance
Follow directions precisely
Think before speaking
Employment
Graduates should qualify for numerous positions within the industry. Employment opportunities include chemical quality assurance, microbiological quality assurance, product inspection, documentation review, manufacturing and product/process validation.
The biopharmaceutical industry has very strict procedures and codes of conduct. Acceptance of this structure and control is paramount for success in this program and this field of employment.
Employers of Wake Tech graduates include Ajinomoto, Baxter, Biocon, Biogen IDEC, Burt's Bees, Catalent, Contamination Control Tech., Patheon, Polyzen, ATEX Technologies, GlaxoSmithKline, Grifols, Lilly, Fujifilm/Diosynth, Merck, Medicago, Guerbet, Mallinckrodt, Seqirus, Novo Nordisk, Pfizer, Teleflex, Triangle Certification, Mongan Biopharm, VWR Scientific, Xellia and Thermo-Fisher.