Events
College Commemorates 20th Anniversary of 9/11 Attacks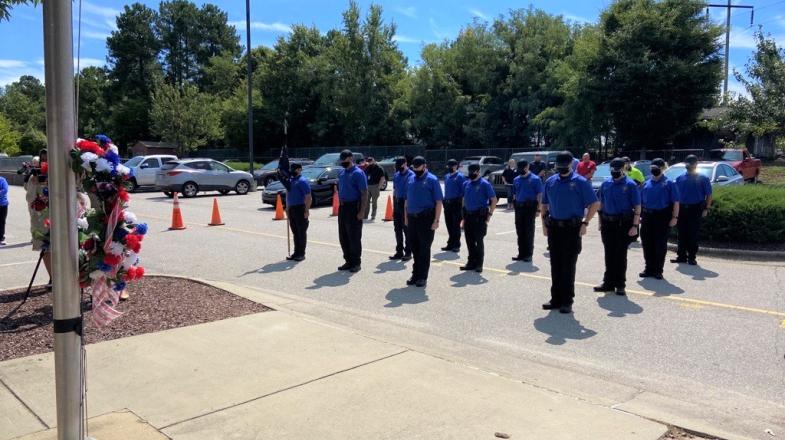 RALEIGH, N.C. (September 10, 2021) – Wake Tech paused today to mark 20 years since the September 11th terror attacks with a special tribute at the Public Safety Education Campus.
The solemn ceremony included personal reflection from Lieutenant Charles Corr, a member of Wake Tech's campus police. Lt. Corr, a 39-year veteran of law enforcement, was serving as a New York City police officer on September 11, 2001, and responded to Ground Zero at the World Trade Center.
"Twenty years is such a long time. Yet while memories fade, the sights and sounds of September 11 are engraved in the brains of first responders and those present at the attacks. We can never forget because we have no other choice," said Lt. Corr. "Too many perished that day but we were able to save so many lives as well."
Wake Tech president Dr. Scott Ralls paid tribute to the heroes who ran toward danger that fateful day and those who risk their lives every day to help others.
"Today, we remember and honor those courageous and inspiring men and women," said Dr. Ralls. "Many of our faculty and campus leaders here at the Public Safety Education Campus have known those risks firsthand, working on the front lines of emergencies and disasters. Now they dedicate themselves to teaching and preparing others to answer the call as first responders."
Students from Wake Tech's BLET program (Basic Law Enforcement Training) placed a wreath at the campus flagpole which was followed by a moment of silence to conclude the ceremony.
The Public Safety Education Campus trains police officers, firefighters, emergency medical technicians, and others who dedicate their lives to helping people in need. Wake Tech was the first community college in North Carolina – and the second in the nation – to earn CALEA® accreditation for its Public Safety Training Academy. CALEA®, the Commission on Accreditation for Law Enforcement Agencies, recognizes best practices and professional excellence in policy and practice. To learn more about Wake Tech's BLET program, visit blet.waketech.edu.