Funding & Development
Federal Grant Brings Life Sciences Investment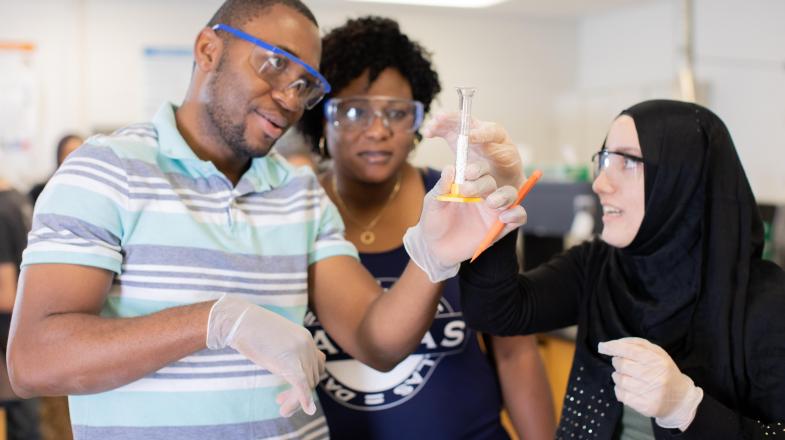 RALEIGH, N.C. (September 2, 2022) – The announcement today of nearly $25 million from the U.S. Economic Development Administration's Build Back Better Regional Challenge will bring more life sciences training to Wake Tech.
A portion of the Phase 2 award will be used to bolster the number of trained life sciences manufacturing workers through the North Carolina Community College System by enrolling students in BioWork and other life sciences training programs. Wake Tech, through its administration of the NC BioNetwork Capstone Center, will lead a unique educational program to prepare new biotech instructors at 10 North Carolina community colleges. Wake Tech is slated to receive $2.6 million in direct federal funding to support instructor development and equipment.
"The Triangle region is one of the nation's largest biotechnology hubs, so we are excited about the opportunity to enhance and expand biotechnology instructor training and strengthen the talent pipeline for life sciences companies in our state," said Wake Tech President Dr. Scott Ralls.
The support for enhanced life sciences instructor training and equipment represents the latest in a series of biotechnology-related advances at Wake Tech during the past year. The college opened the Lilly Science and Technology Center at its RTP Campus earlier this year, which includes a new Wake Early College of Information and Biotechnologies in partnership with the Wake County Public School System. Wake Tech has also launched a new Biotechnology associate degree and RTP Bio, a collaboration with Durham Tech offering increased biotech career opportunities for students and graduates of both institutions. Eastern Wake 4.0, Wake Tech's seventh campus under construction in Wendell, includes a 60,000-square-foot advanced technology center that will house the college's Biopharmaceutical Technology degree program.
Led by the North Carolina Biotechnology Center, the Accelerate NC – Life Sciences Manufacturing project is a statewide coalition of public and private partner organizations and was one of only 21 projects chosen for the Phase 2 award from 60 applicants nationwide. The funding will further strengthen North Carolina's life sciences manufacturing cluster by expanding, connecting and promoting training and career opportunities to underserved and distressed communities, including historically excluded populations.