Road to Recovery
Tisha Temple
Class of 2020
Area of Study
Human Services Technology
Favorite Aspect of Wake Tech
Helpful and comforting staff and instructors.
Career Goals
Wants to start a substance abuse recovery non-profit organization back in her home town of Henderson
Don't look at people where they are -
look at them where they can be.
— Tisha Temple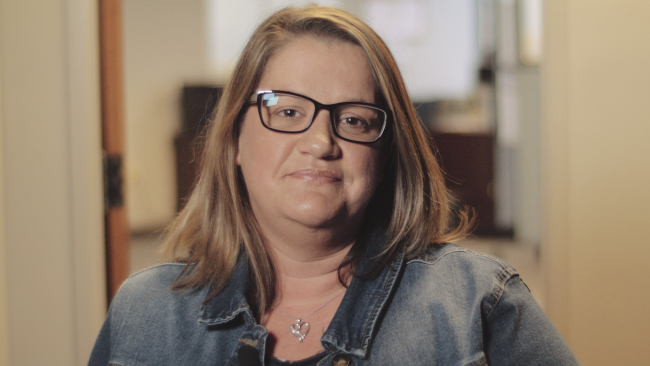 Tisha Temple is from the small Vance County town of Henderson, NC. She says she had a "normal" childhood, was a cheerleader, and even served on the student council in school. But things changed.
"By the age of 21, I had three kids," Tisha says. "I first tried drugs and alcohol when I turned 26 – and within six months I was addicted, homeless, and had turned to prostitution."
Tisha went to prison – twice – and says she was not offered rehab or community service for either sentence: "I was not working on myself."
She tried to stop using drugs, but relapsed, and then became addicted to heroin. She was homeless for the next three years. "I was ashamed and didn't seek help," Tisha says.
A turning point came when she got arrested for the third time. The arresting officer had been looking for her, wanting her to get the help she needed. It was then that she says she learned that "police officers do care."
She finally went into treatment and applied for residency in an Oxford House, a self-supporting recovery home. There she got encouragement and got educated. The network of good people Tisha had surrounded herself with suggested she check into Wake Tech, but transportation was a problem. Soon after, a friend let Tisha borrow her car to get to school.
Tisha enrolled in the Human Services Technology/Substance Abuse program. "Even though I hadn't been comfortable using a computer, I found it easy to navigate the admissions process," she says. Tisha found lots of support in the classroom – and was comforted to know her instructors understood that many of their students had a personal history of substance abuse. Tisha will complete her Substance Use Intervention Certificate in December 2019 and will graduate with an AAS degree in May of 2020.  She's looking forward to celebrating with her daughter, who will graduate from East Carolina University at the same time! Tisha is recently married, has become a grandmother, and has a circle of family and friends to support her.
Tisha now works fulltime as an Integrated Recovery Resource Specialist with Alcohol Drug Council of NC, providing information and referrals to individuals seeking substance use disorder treatment, and part-time as a peer advocate with Oxford Houses of Wake County, helping others in recovery navigate community resources such as transportation, clothing, and food. "It's hard work, and it's rewarding," she says. "I don't want people to get disengaged while in recovery." Her long-term goal is to open a recovery facility in her hometown of Henderson that would serve as a stepping stone to organizations like Oxford House. She wants to provide a home for women in recovery and offer counseling, food, living arrangements, and assistance with tasks like resume writing, budgeting, and managing money.
When asked for her advice, Tisha says, "Don't look at people where they are – look at them where they can be."
To learn more about Wake Tech's Human Services Technology Substance Abuse AAS program, visit humanservices.waketech.edu.