From Patient to Nurse
Leslie Whitehurst
Class of 2019
Favorite Aspect of Wake Tech
My cohort of students – we're like family! Ask any doctor and they will tell you that Wake Tech Nursing students are the best!
Career Goals
To work in the cancer clinic where she was treated as a patient.
Everybody is in nursing school for a reason.
— Leslie Whitehurst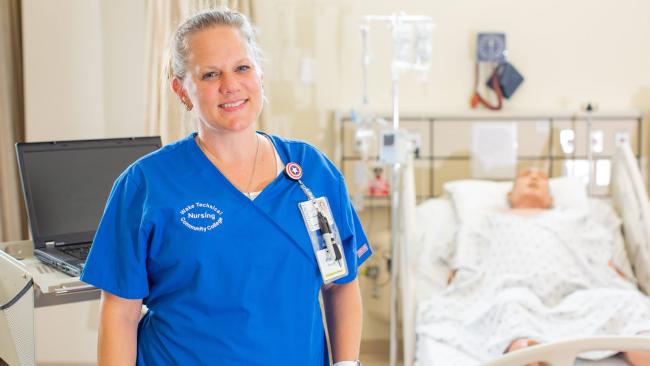 At the age of 37, Leslie Whitehurst was diagnosed with Stage III breast cancer.
"It was a shock," Leslie says. "I was a mother of two kids under three years old. I had just completed the New York City Marathon!" But instead of the normal post-marathon pains, Leslie felt something unusual. She went to her doctor for a mammogram and ended up needing a biopsy, followed by 35 days of radiation, a double mastectomy, and chemotherapy.
Somehow Leslie stayed positive: "I truly believe that mind over matter is a thing."
Leslie is an NC State graduate with a degree in communications, and before her diagnosis, she had worked as an administrative professional in a financial planner's office. But while being treated at UNC Rex Cary, Leslie realized that the nurses were a big part of what kept her positive. One nurse, in particular, Jan Powell, had a huge impact on Leslie – and vice versa.
Jan, Care Manager at UNC Rex Cancer Care, remembers that "Leslie was so upbeat and positive. She arrived for each of her treatments with determination to win this battle."  
Leslie realized she wanted to be "somebody's Jan" and decided to enroll in the Martha Mann Smith School of Nursing at Wake Tech – even before completing her chemotherapy. She believes her trajectory is not unusual: "Everybody is in nursing school for a reason."
All that determination was tested, however, when her first attempt to enter the nursing program failed – and when, after finally being admitted, she failed her first exam. "I had excellent grades in high school and college," she says, "but nursing school is another beast – much harder than I thought!"
It was the rigor and reputation of Wake Tech's program, however, that led Leslie to choose it: "Hospital doctors will tell you they'd rather hire Wake Tech graduates because we get real-world experience."
Three months before graduating, Leslie was hired – on the spot during a job interview – as a New Graduate Oncology RN with UNC Rex. She begins her job in February 2020, and after one year, she can transfer to the very clinic where she was treated as a patient.
"It's been a ride!" she says. "I learned through cancer that if there's something you want to do, do it! I've come full circle. And I'm now cancer-free!"
Leslie will graduate in December 2019 with about 80 fellow nursing students. Her graduating class is the largest in many years, but to her, they're "family."
To learn more about Wake Tech's Associate's Degree in Nursing, visit nursing.waketech.edu.