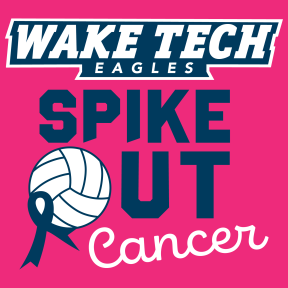 Date
Thursday, October 13, 2022 - Friday, October 14, 2022
Description
IT'S GAME TIME!
WAKE TECH EAGLES VS USC LANCASTER
ALL STAFF, STUDENTS, STAFF & FACULTY ARE INVITED TO CELEBRATE 
THE CANCER SURVIVORS IN OUR COMMUNITY WITH A PINK OUT!
THURSDAY, OCTOBER 13, 2022
SCOTT NORTHERN WAKE CAMPUS - BUILDING K
6:00 PM
?
   
DOORS OPEN AT 5:15 PM
?
If you or someone you know is a women's cancer survivor and wishes to participate in a pre-match ceremonial celebration and recognition, please go to: 

?
To donate to our Wake Tech Spike Out Cancer Fundraiser click here?