Preparing students for a world that does not exist yet
Wake Technical Community College has developed a Future Forward College (FFC) in collaboration with other colleges and community groups. Its mission is to better prepare students, faculty, and administrators for an unpredictable future through a collaborative process paralleling more traditional methods of teaching, learning, research, and assessment. These seven key capacities form the foundation of FFC activities: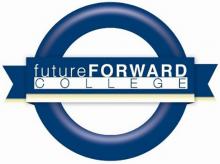 Self-directed learning and personalized curricula
Identifying weak signals
Science of networks
New concept of literacy for the 21st century
Unlearning and uplearning (the capacity to think at a higher level of complexity)
Transformational coaching
Future Forward Workforce 
These initiatives support the more specific, 47 key ideas we strive to incorporate into the learning community at Wake Tech through activities of Future Forward Faculty, the Futures Club, and our partners in Communities of the Future.
The Future Forward College knows no boundaries; Wake Tech hosted the first Future Forward College Conference in April 2014, bringing together educators, economic and community development experts, students, and community leaders from nine states, 12 colleges, and 17 businesses. Conference participants learned many of the key ideas through a game of exploration, while networking with other team members and expert facilitators.
Futures education is organic, holistic, and flexible. Working in parallel with institutional structures, the Future Forward College transforms and expands learning communities.
Wake Tech is proud to collaborate with the following organizations:
Communities of the Future
Tarrant County Colleges
Institute for Emerging Issues (NC State University)
Forsythe Technical Community College (North Carolina)
Bluegrass Community and Technical College (Kentucky)
University of DC Community College
World Futures Society