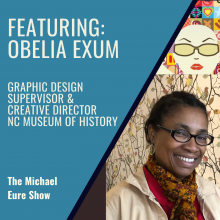 Special Guest - Obelia Exum
Our special guest is Obelia Exum, Graphic Design Supervisor and Creative Director at the North Carolina Museum of History. Michael will interview Obelia about her experiences as female student at Wayne Community College, followed by her undergraduate matriculation at North Carolina Agricultural & Technical State University and graduate degree completion at North Carolina State University. Obelia will also discuss her career as a graphic designer and an adjunct professor. Finally there will be a brief look into her creative process and some of her endeavors.
Published on:
Mar. 16, 2021
Episode Notes
This episode was streamed on March 11, 2021.