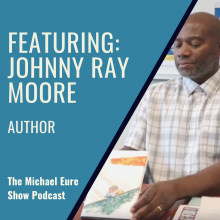 Special Guest - Johnny Ray Moore
In this week's episode, Michael Eure welcomes local author Johnny Ray Moore. Johnny is the author of five previously published books for children, a poet and a greeting card writer. He and Michael will be discussing his newest book, Silence, Please: A Collection of Children's Poems.
Published on:
Aug. 11, 2020
Episode Guest
Johnny Ray Moore
Johnny Ray Moore is a poet and children's author. His other books include Meet Martin Luther King, Jr. and But Still, We Dream (a novel in verse). Johnny is a graduate of the Institute of Children's Literature and a member of the Society of Children's Books Writers and Illustrators.
Episode Notes
This Episode was recorded April 3, 2018.