Dental Assisting Organizations
The Dental Assisting National Board (DANB) is the nationally recognized certification and credentialing agency for dental assistants. When you become DANB-certified, you join an elite group of over 30,000 Certified Dental Assistants (CDAs) nationwide. The DANB CDA, Radiation Health and Safety (RHS) and Infection Control (ICE) examinations are required or recognized as meeting regulatory requirements in more than 30 states.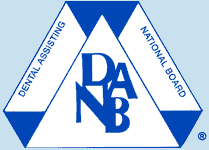 Since 1948, DANB has worked within, and has the support of, the dental community. The American Dental Association recognizes DANB as the national certification agency for dental assistants. This recognition is supported by the Academy of General Dentistry, the Academy of Oral and Maxillofacial Radiology, the American Academy of Dental Practice Administration, the American Association of Dental Examiners, the American Dental Education Association and the American Dental Assistants Association (ADAA).
Established over 80 years ago, the ADAA provides continuing education to dental assistants through home study courses, professional journals and local, state and national meetings with educational agendas. It encourages education, registration and certification for dental assisting professionals while providing a network of personal services for its members. The ADAA is the oldest, largest group representing professional dental assistants. Its members include clinical personnel – those working chair-side with the dentist – as well as those on the administrative side – the receptionist, office manager and practice manager – and those working behind the scenes in dental product sales, insurance and educators.
In most areas, the ADAA is served by the state association and often a local component as well. Those interested in a membership should call 312-541-1550.
The North Carolina Dental Assistants Association (NCDAA) represents dental assistants, business and office personnel and educators throughout North Carolina. Membership in the ADAA includes membership in the NCDAA and local organizations. Their mission is to advance the careers of dental assistants and to promote the dental assisting profession activities that enhance the delivery of quality dental health care to the public. The association's objectives include the following:
Share in the responsibility for quality dental health care delivery to all
Advance the practice of dental assisting toward the highest standards of performance obtainable by supporting and encouraging formal education
Provide quality continuing education
Support educationally based national and/or state credentialing for the dental assisting profession 
Communicate effectively with all members of health-related professions