Partnerships
Some 2021 High School Grads May Attend Wake Tech at No Cost
Governor's Grant Program Addresses Impact of Pandemic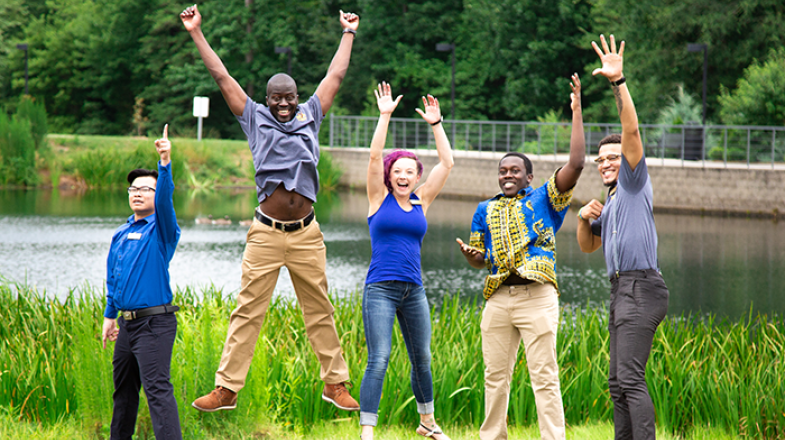 RALEIGH, N.C. (June 23, 2021) – Wake Tech is excited to announce a special opportunity for 2021 high school graduates. Thanks to a new state grant program, eligible grads may be able to have college tuition covered for up to two years.
The North Carolina Longleaf Commitment Grant will cover tuition and fees toward an associate degree (or transfer credits) for high school graduates who are enrolled full-time at a North Carolina community college and meet eligibility requirements. Students can receive between $700 and $2,800 per academic year for two years. The amount will depend on family income, as established by the FAFSA. Most students with family income up to $90,000 will be eligible; part-time students may receive partial awards. In addition, students who complete an adult high school diploma or GED during the 2021 calendar year may qualify.
Governor Roy Cooper recently launched the Longleaf Commitment Grant program as part of North Carolina's share of the Governor's Emergency Education Relief (GEER) program – federal dollars to help educational institutions and school districts address the impacts of the COVID-19 pandemic. The Longleaf Commitment Grant ends at the conclusion of the 2023 spring semester.
"The Class of 2021 has dealt with so much disruption to their education and their high school experience," said Brian Gann, Wake Tech's Vice President of Student Services and Enrollment. "Wake Tech is thrilled to offer the Longleaf Commitment Grant to make the pathway to college easier. The most important steps a student needs to do as soon as possible is apply and be accepted for admission at Wake Tech and complete a 2021-22 FAFSA application.
Eligibility Requirements
To receive Longleaf Commitment Grant funds, a student must:
Be a 2021 North Carolina high school graduate attending a North Carolina community college in the 2021-22 academic year
Have an Expected Family Contribution (EFC) of $15,000 or less as determined by the Free Application for Federal Student Aid (FAFSA)
Be a North Carolina resident for tuition purposes
Enroll for at least 6 credit hours per semester in a curriculum program
Meet the Satisfactory Academic Progress requirements of the college
Students interested in the Longleaf Commitment Grant should apply for admission to Wake Tech, complete residency determination through the North Carolina Residency Determination Service (RDS), and complete the Free Application for Federal Student Aid (FAFSA).
For more information about the Longleaf Commitment Grant at Wake Tech, contact 919-866-5410 or [email protected].