Events
General Education Building Taking Shape at Future Campus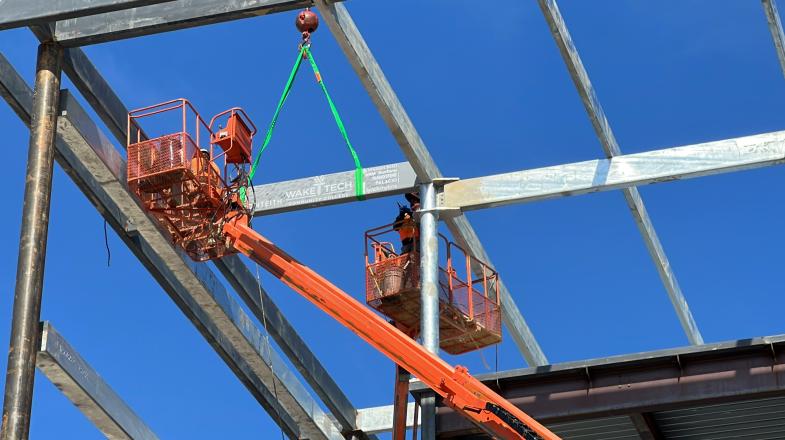 RALEIGH, N.C. (February 22, 2023) – Wake Tech is celebrating a major step forward at the college's future Eastern Wake Campus. The final beam was placed atop the General Education and Student Services building on the 106-acre site today. Watch a video of the beam being raised into place. The $72 million, 118,000-square-foot facility is being built by Monteith Construction and was designed by BSA LifeStructures, McKim & Creed and SEPI Engineering.
"How amazing it was to have each company come together through this collaboration to make this sustainable building possible for our friends at Wake Tech," said Emmie Tyson, with BSA LifeStructures.
Monteith Operations Lead Drew Hardin spoke directly to the builders and contractors working on the facility: "Your hard work on this project will help serve countless individuals in eastern Wake County, and you should feel great pride in the work that you've accomplished."
The facility will be the home of the Associate in Arts, Associate in Science and Associate in Engineering degrees for university transfer. It will have smart classrooms, science labs, an auditorium, a library and dedicated tutoring and study spaces. It will also include student services such as Admissions, Advising, Financial Aid, IT support and food services. It is projected to be completed in time for a Fall 2024 opening.
"This site will bring new opportunities for residents of this growing part of our county," said Wake Tech Executive Vice President Dr. Gayle Greene. "We can't wait for the day we're able to open the doors of this instructional building."
The General Education Building is one of four facilities included in Phase 1 of the site. An environmentally friendly Central Energy Plant, which will house boilers and chillers for the campus, is nearing completion and should open later this spring. A Public Safety Simulation Complex and driver training track, which will provide a realistic 4D immersive training village for first responders, is due to open in the summer of 2024. The fourth project is a Technology 4.0 facility featuring biopharmaceutical technology, intelligent automation, robotics, smart manufacturing, microelectronics and drone operations and repair programs. It is expected to open in the spring of 2025. The final Phase 1 project will be a Fire and Rescue Training Center with live fire and enhanced rescue training capabilities.
Phase 1 development is supported by the $349 million bond overwhelmingly approved by Wake County voters in 2018.
Wendell Mayor Virginia Gray thanked everyone for their patience in light of supply chain delays for construction materials and offered the town's support every step of the way. "If you need anything from the town of Wendell, please don't hesitate to call me," she said.
Future development will include academic buildings for STEM education, business and IT training and short-term, non-degree programs.
Wake Tech is North Carolina's largest community college, serving about 70,000 students each year. Wake Tech currently has six campuses and three training centers across Wake County. When it receives campus designation, Eastern Wake will become Wake Tech's seventh campus. It will include opportunities for Wake Tech graduates to stay and complete a bachelor's degree through one of the college's university partners: East Carolina University's Bachelor of Science in Industrial Technology and Elizabeth City State University's Bachelor of Science in Unmanned Aircraft Systems.
Learn more at waketech.edu/easternwake.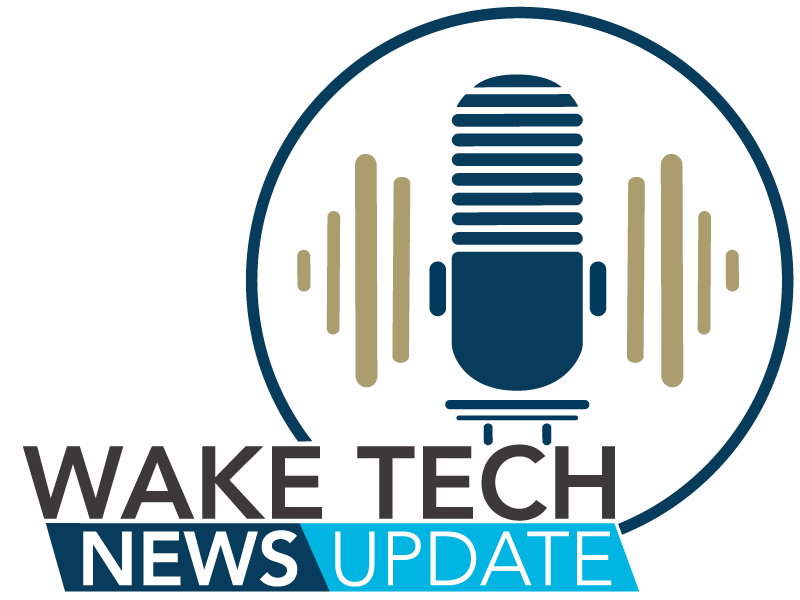 Latest News from Wake Tech