Events
College Celebrates Fall Graduates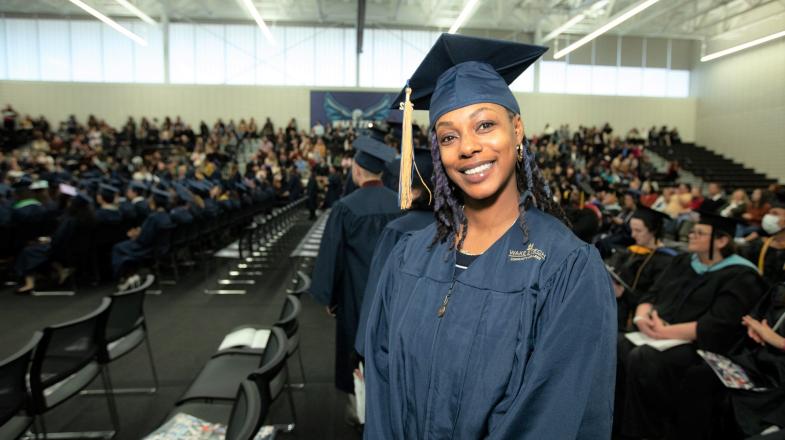 RALEIGH, N.C. (December 10, 2022) – Saturday was a day of pride and excitement as hundreds of Wake Tech graduates celebrated their accomplishments at the college's Fall commencement exercises.
Two ceremonies were held in the gym at the Scott Northern Wake Campus. Hundreds of families and friends watched with pride as graduates ranging in age from 16 to 65 turned their tassels. In all, about 900 graduates received degrees and diplomas, including the first five graduates of Wake Tech's new Practical Nursing program.
Two students in Wake Tech's Fostering Bright Futures program, a public-private partnership that provides tutoring, mentoring and financial support to help former foster youth pursue higher education, also earned degrees. Ajah McCullough received her Associate in Applied Science degree in Accounting and Finance and has been offered a job with TurboTax. Khadijah Scarborough, who earned an Associate in Science in Nursing, is off to work as a pediatric ER nurse at the prestigious Johns Hopkins Hospital. Their accomplishments are particularly significant, as less than 10% of former foster youth are successful in earning a college degree.
Wake Tech President Dr. Scott Ralls congratulated the Class of 2022.
"We are so proud of you and all that you have accomplished," said Ralls. "Now, you are ready to tackle the world. My greatest wish is that you always find and spread joy."
Two standout students were selected to speak at the ceremonies to share their personal stories of success and offer advice to fellow graduates.
Erin Ellison was homeschooled before enrolling at Wake Tech and was unsure of her ability to succeed. Thanks to encouragement from instructors and her family, Ellison was able to thrive. She was named to the prestigious President's List honor roll and participated in the college's STEM Academic Research & Training (START) program, which offers students paid research opportunities.
"There were many sleepless nights when I came late from work and stayed up until sunrise to finish my assignments," said Ellison.
She earned her Associate in Arts degree and is transferring to North Carolina State University to pursue a bachelor's degree in psychology. Her goal is to earn a Ph.D. and become a practicing therapist with a focus on mental health.
"I plan on hanging my Wake Tech degree in my office as proof that it doesn't matter where you start, only how hard you work to get where you're going," she said.
Briana Headen earned an associate degree in Baking and Pastry Arts. While attending Wake Tech, she received the prestigious US Foods Scholars Award, which helps students pay the costs related to their culinary education. Despite juggling multiple jobs while attending both day and night classes, Headen's instructors say she was always a positive influence on her classmates.
That attitude was reflected in her graduation speech.
"Things may not go according to what you originally planned. Sometimes, a different path is exactly where you need to go," she said.
Headen already holds a bachelor's degree in hospitality and tourism from North Carolina Central University and hopes to combine her hospitality and baking skills as she continues her career.
Wake Tech offers programs in 13 career fields, including Advanced Manufacturing, Biotechnology, Business, Construction, Education, Engineering, Health Care, IT, Public Safety and more. New students can apply at apply.waketech.edu.
The Spring semester begins January 5.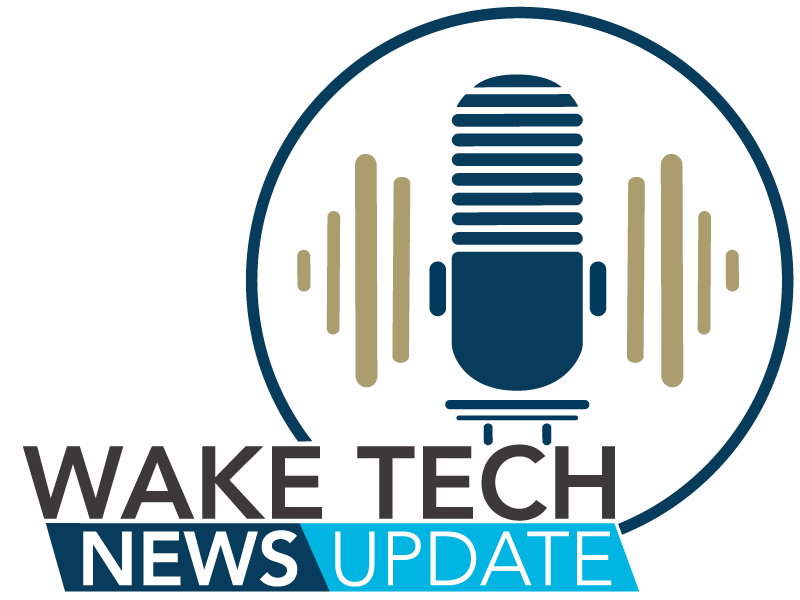 Latest News from Wake Tech