In The Community
College Thanks Wake County Voters for Generous Support
$353 Million Bond Approved for Strategic Expansion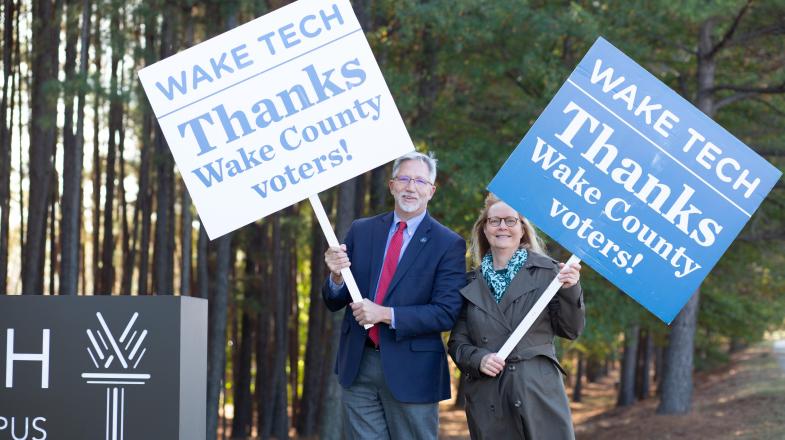 RALEIGH, N.C. (November 9, 2022) – Wake County will soon have innovative new training facilities for health care, life sciences, cybersecurity and industrial professions, as well as a new permanent Western Wake Campus, thanks to passage of the Wake Tech Workforce Forward bond. Voters overwhelmingly approved the $353 million bond in Tuesday's election, enabling the college to grow to meet the demand for skilled workers in high-demand fields. The referendum passed with 70% support.
College staff and administrators extended their appreciation to Wake County voters by taking to the streets with "thank you" signs during morning rush hour today.
"We're so grateful for the outpouring of support from the people of Wake County," said Wake Tech President Dr. Scott Ralls. "It's clear that voters understand the critical role that Wake Tech plays in preparing a skilled workforce for the companies in our region. It's also clear that they appreciate the life-changing opportunities we provide for Wake County residents to prepare for meaningful careers and ongoing career advancement."
Approval of the bond makes the following strategic expansion projects possible:
Perry Health Sciences Campus Expansion
The expansion of Wake Tech's Perry Health Sciences Campus will include construction of a 120,000-square-foot facility. This critical new building will allow for the expansion of the college's high-demand nursing programs and the addition of potential new programs in mental health, respiratory therapy, disability support and other areas. The new facility will feature a "simulation hospital" allowing students in nursing and multiple disciplines to learn in a real-life setting. It will also house state-of-the-art laboratories for imaging programs.
Permanent Western Wake Campus
Wake Tech's Western Wake Campus will be relocated from its current, leased facility to a permanent campus in southwest Wake County. The 34-acre site is conveniently located at the intersection of N.C. Highway 55 and the N.C. Highway 540 Triangle Expressway, near U.S. Highway 1. Initial facility construction will provide permanent space for existing campus operations including University Transfer degree programs. A new Entrepreneurship Center will be a resource hub for small businesses and the headquarters for the National Association of Community College Entrepreneurship. A new Workforce Development Center will feature IT and game development labs and provide flexible industrial/biopharmaceutical training space to support the dynamic job growth of Apex, Cary and Holly Springs.
RTP Campus Cyber/Science Facility
Wake Tech's RTP Campus has emerged as a major attraction for new and advanced technology companies growing in the Research Triangle region. Bond funds will support construction of the third building on the RTP Campus, to allow expansion of life science and IT programs, especially in the field of cybersecurity, where demand is great. It will also allow the continued advancement of education and industry partnerships that are advancing our region.
The bond will also support needed investments in infrastructure collegewide, including technology and security enhancements and accessibility upgrades.
"Wake County's population is not only growing; it's getting older," said Ralls. "Bond funds will allow our community's college to keep up with that growth while preparing high-demand health care professionals who are vital to our long-term quality of life, as well as the skilled technicians we count on every day. I like to say that Wake County runs on Wake Tech, and thanks to the support of voters, our workforce training engine will keep running strong."
Wake County's population is growing by about 62 residents per day. Wake Tech serves more than 70,000 students each year, and this fall saw its largest enrollment in degree programs since the pandemic started.
Independent studies indicate that Wake Tech generates more than $1 billion for the local economy each year, with each dollar invested in Wake Tech generating more than $7 in added income and social savings.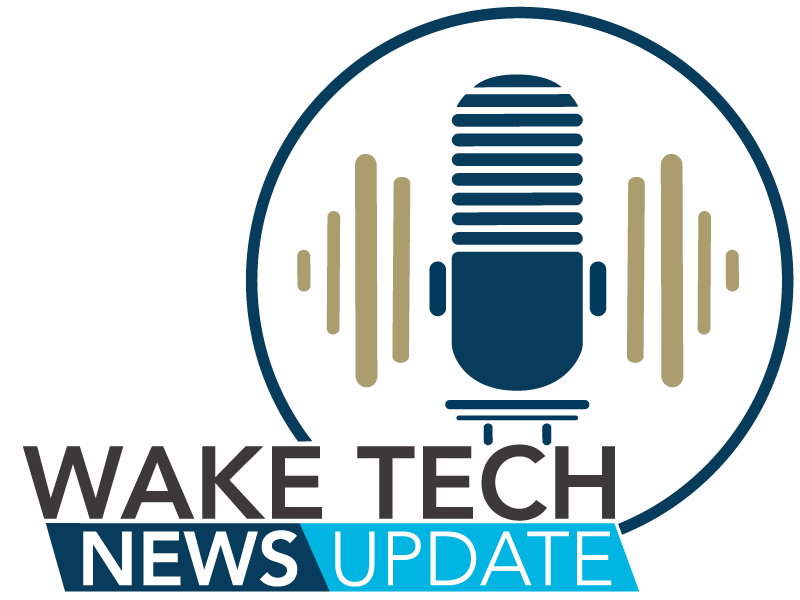 Latest News from Wake Tech