Events
Summer Bridge Program Begins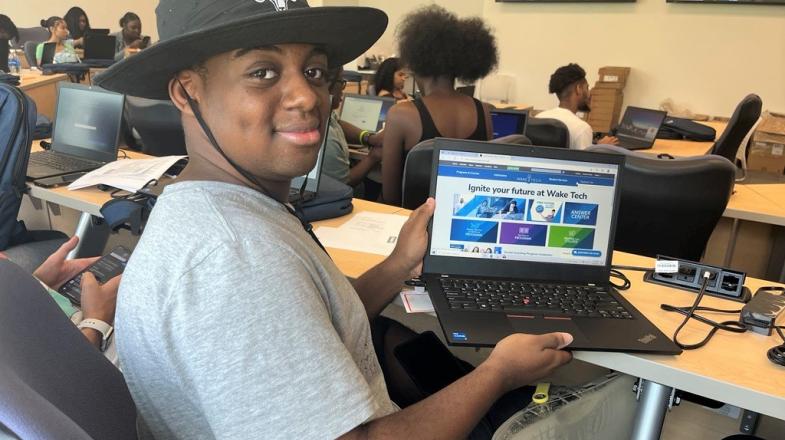 RALEIGH, N.C. (June 23, 2022) – Future Wake Tech graduates are launching their college careers early. Nearly 70 new students enrolled at Wake Tech for the Fall semester are participating in the Eagle Start Summer Bridge program.
The program helps ease the transition from high school to college and helps students who may need extra academic assistance build a strong foundation for the future in a supportive and structured environment.
Welcome sessions were held today at Wake Tech's Scott Northern Wake and Southern Wake campuses. Students received laptops, book bags and workbooks for English and math classes.
They also heard words of wisdom and advice from college leaders, including Wake Tech Executive Vice President Dr. Nicole Reaves.
"You have to put the time in if you want to be successful," said Reaves. "It takes hard work and discipline."
Brian Gann, Wake Tech's vice president of student services, shared his own experience.
"Like many of you, I was the first in my family to attend college," said Gann. "My parents had no idea how to help me navigate the setting. Our team is here to guide you through the challenges and support you to reach graduation day."
The Summer Bridge program begins June 27 and runs through August 4. Classes take place from 9 a.m. to 2 p.m. Monday through Thursday. Summer Bridge students have full access to Wake Tech resources and services, as well as tutoring and success coaching. For more information on the program, email [email protected].