In The Community
College Honored for Environmental Stewardship
Hendrick Center for Automotive Excellence Wins Award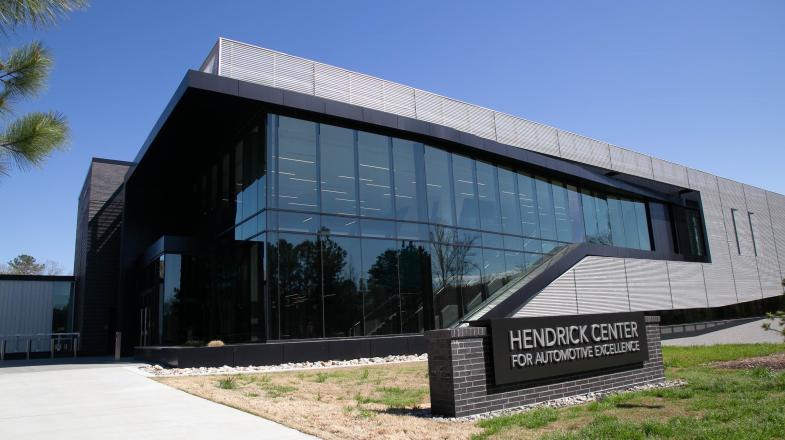 RALEIGH, NC (May 11, 2022) – Wake Tech is pleased to announce that it has received a 2022 City of Raleigh Environmental Award for the college's new Hendrick Center for Automotive Excellence. The 100,000-square-foot facility won in the category of Next Generation of Environmental Leaders, which recognizes projects that encourage young residents to take environmental action through conservation, community engagement or workforce development. The awards were handed out at the Raleigh Convention Center.
"We're honored by this award and couldn't be more pleased about this distinction for the Hendrick Center," said Wake Tech President Dr. Scott Ralls. "Wake Tech has long been committed to responsible growth and sustainable practices in every phase of college operations, and one of the most important aspects of that is our instruction that prepares students to take on 21st-century jobs as good stewards of the environment."
An automotive training facility, with its exhaust fumes, rusty parts, dirty motor oil and chemical solvents of all kinds, might seem an unlikely place to find eco-friendly practices and good environmental stewardship. And yet, this one is just that: Wake Tech seized the opportunity to create a sustainable facility and use it to train the next generation of automotive experts. Sustainability is built into the building's design, which takes into account proximity to transit routes, pedestrian walkways, outdoor gathering spaces and bioretention strategies. Design efforts focused on bringing natural light deep into the building and mitigating solar heat gain through smart glazing design strategies and cool roof material. Landscaping includes indigenous, drought-tolerant plants, and the parking lot offers an EV charging station. Students will learn to service hybrid and electric vehicles, and they'll take those skills back into the local community as part of a workforce focused on clean energy.
At the awards ceremony, Wake Tech was also formally recognized for its 2021 Climate Action Award for Transportation. The college won the award for its Green Trek initiative, which encourages students and employees to use sustainable forms of transportation like mass transit and carpools. Thanks to partnerships with GoRaleigh and GoTriangle, Wake Tech students and employees are eligible for free passes to ride buses to campuses. Learn more at greentrek.waketech.edu.