Partnerships
College Joins Effort to Ignite New Interest in Fire Careers
Candidates Don't Need Experience and are Paid to Train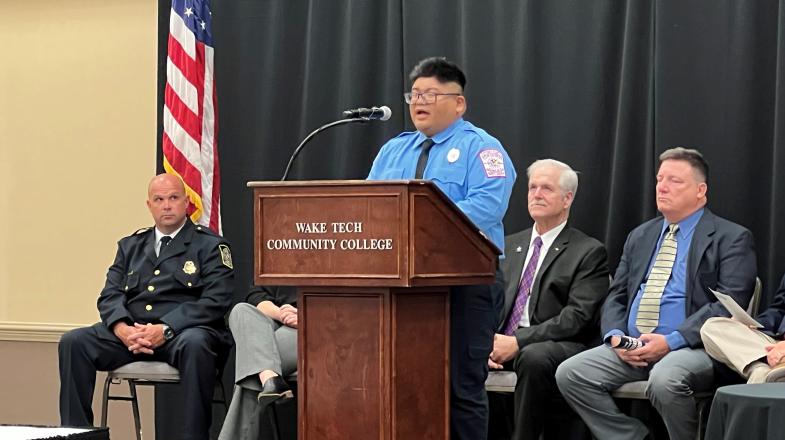 RALEIGH, N.C. (June 2, 2022) – Wake Tech has teamed up with Wake County and six of its fire departments to help launch a robust recruitment campaign aimed at helping increase racial and gender diversity in fire services. Candidates with no experience will be able to earn a salary while being trained, a strategy leaders hope will break down barriers that may have prevented women or minorities from considering careers as firefighters.
"We can provide an even higher level of service to our community when we reflect the culture, language and beliefs of the people who call Wake County home, and that's why I'm so excited to see this commitment and partnership to diversify fire services," said Shinica Thomas, vice chair of the Wake County Board of Commissioners. "Firefighters do so much more than fight fires. They are constantly engaging with our community during emergency and medical calls. Oftentimes that takes compassion and relatability, and diversity helps with that."
Nationally, around 95% of career firefighters are men, and roughly 85% are white, according to the Bureau of Labor Statistics. The picture is similar on the local level, with Wake County Fire Services (excluding the Raleigh and Cary fire departments) reporting staffing makeup of 97% male and 94% white in 2021.
To help address this issue, Wake County commissioners approved $2.3 million in American Rescue Plan Act funding to go toward a series of in-person community recruitment meetings, grassroots outreach and, for the first time ever, a full salary and benefits for recruits while they attend the 38-week Wake County Fire Training Academy at no cost. This "Career in a Year" approach means that candidates who successfully complete the academy will have full-time jobs at one of six local fire departments: Durham Highway, Fairview, Fuquay-Varina, Garner, Northern Wake or Wendell.
"Wake Tech has a great reputation in the field of public safety education and training, and we're proud to partner in this effort to help close racial and gender gaps in the workplace," said Dr. Jamie Wicker, provost of the Public Safety Education Division at Wake Tech. "Public safety professionals show up every day to serve their fellow citizens, which is crucial and rewarding, and it is important that our first responders reflect the communities in which they serve."
During 45 days of recruitment, which will run through July 15, potential candidates can attend one of five information career expos held throughout Wake County. There is one tonight from 6 to 8 p.m. at the Alston Massenburg Community Center, 416 N. Taylor St. in Wake Forest. If interested, candidates can apply to one of the six county fire departments. Thirty applicants will be selected to attend the academy, with textbooks, medical exams, equipment, salary and benefits paid for while attending.
For more information on the program, the upcoming informational sessions or to apply, visit WakeGov.com/firecareer.