Around WakeTech
Spring Semester Begins with Emphasis on Academic Goals and Health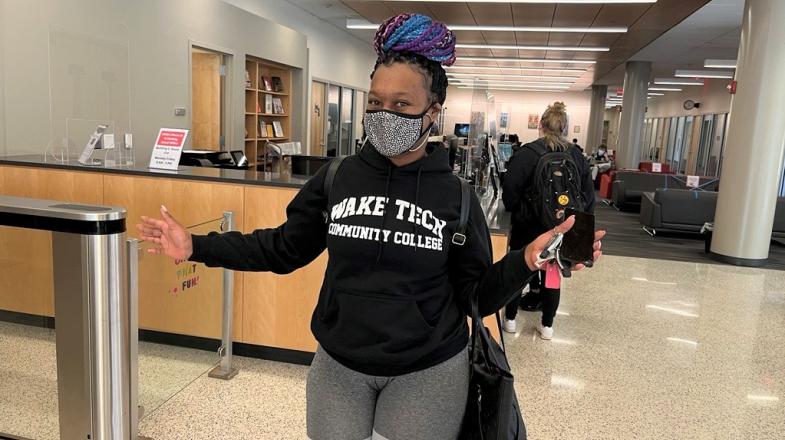 RALEIGH, N.C. (January 6, 2022) – Wake Tech welcomed nearly 20,000 degree-seeking students on the first day of the spring semester. Many are seeking a future in high-demand careers, including, healthcare, culinary, hospitality, IT, and skilled trades. The college is offering in-person, online and hybrid classes this spring.
Wake Tech President Dr. Scott Ralls greeted students on campus, and staff and faculty were on hand to answer questions.
Wake Tech is laser-focused on allowing students to pursue their academic goals, despite the challenges of the ongoing pandemic. The spring semester is being conducted with the college's "Learn Well" objectives to ensure the health and safety of students and employees, with masks required indoors and smaller class sizes to allow students to socially distance in classrooms. Masks are required in classrooms, labs, hallways, and other gathering spaces for everyone, regardless of vaccination status. Wake Tech strongly recommends that all students and employees be fully vaccinated and boosted.
Due to the recent covid spike, some in-person classes were moved to online during the first full week of the semester. There are grab-and-go dining options and food trucks return to several campuses on January 18.
Wake Tech's Virtual Support Center is the best and safest way for students and prospective students to receive services such as admissions, financial aid, registration and records, advising, veterans services, career services, and wellness counseling.
Meanwhile, the college is excited to launch two new academic programs.
Collision Repair & Refinishing Technology is located at the Hendrick Center for Automotive Excellence on the Scott Northern Wake Campus. The Associate in Applied Science (AAS) program is designed to provide the knowledge and skills to complete structural and non-structural damage repairs, and paint and refinish on automotive equipment. In addition to the degree program, a diploma and certificates will also be offered.
Practical Nursing (PN) is now offered at the Perry Heath Sciences Campus. The program prepares graduates to practice as an entry-level nurse under the supervision of a registered nurse (RN) and other health care providers. Practical Nursing graduates are trained to meet the health care needs of individuals throughout their lifespan. Graduates of this program meet the education requirements to take the National Council Licensure Examination (NCLEX-PN).
Employees and students will notice several road and traffic changes near the Southern Wake Campus. As part of the 540 project, temporary lane shifts are now in place on U.S. 401. Old McCullers Road is permanently closed at the intersection with U.S. 401. Students are encouraged to utilize the additional campus entrance at Learning Way. The 40X bus stop and the carpool lane are now located in parking lot D.
Wake Tech is North Carolina's largest community college, serving more than 70,000 adults annually, with six campuses, three training centers, multiple community sites, and a comprehensive array of online learning options.