Employee News
Criminal Justice Department Head Receives Old North State Award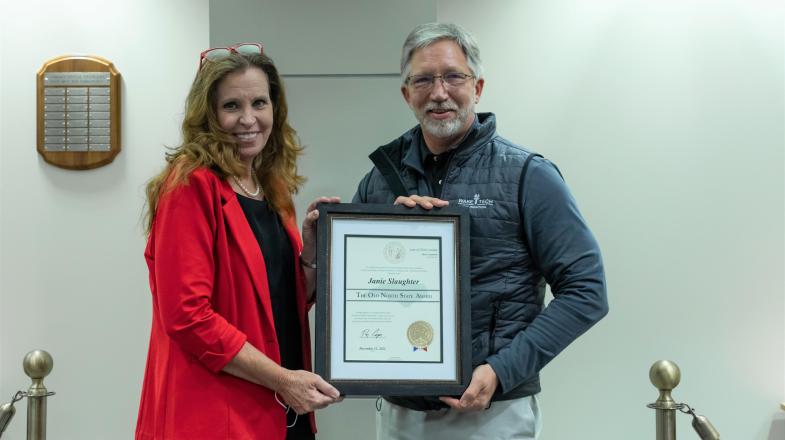 RALEIGH, N.C. (December 17, 2021) - Congratulations to Janie Slaughter, Wake Tech's Department Head of Criminal Justice and Forensic Science, on receiving the Old North State Award.
Given by the governor's office, the award recognizes individuals with 20 or more years of service to the state of North Carolina. It was presented to Slaughter Dec. 17 at her retirement reception. She officially retires at the end of this month.
Slaughter began her career at Wake Tech in 1997 as a part-time instructor. She eventually became a full-time instructor and was named department head in 2006. During Slaughter's tenure, the criminal justice program continued to grow and flourish and has strong ties to law enforcement and public safety communities due to her leadership.
In 2004, Slaughter was honored as a Wake Tech Excellence in Teaching nominee for the Business and Public Services Division and she attained the rank of professor in 2017.
Slaughter has served on several statewide and local committees including the NC Governor's Crime Commission Higher Education Advisory Group; North Carolina Central University Advisory Board, Criminal Justice Program; and North Carolina Central University, Distance Education Working Group. She was also honored as a Hometown Hero in Fuquay-Varina in January 2018 for her outstanding work as a criminal justice educator.
"Janie always strives for excellence and ways to catapult the criminal justice and forensics programs to the next level," said Provost Walter Martin. "From her crime scene room creations to the live outdoor investigation drills, she always sought ways to engage the students as close to reality as possible. She really put Wake Tech's program on the map recently with the adoption of the Ande Rapid DNA testing system and it's usage by local law enforcement agencies."
Slaughter earned her Associate in Applied Science (AAS) degree in criminal justice from Wake Tech. She also received her bachelor's degree in justice and policy from North Carolina Wesleyan College and her master's degree in criminal justice from North Carolina Central University. She is currently pursuing her doctorate. She also has numerous criminal justice-related professional certifications.