Employee News
Sharon Welker Receives Order of the Long Leaf Pine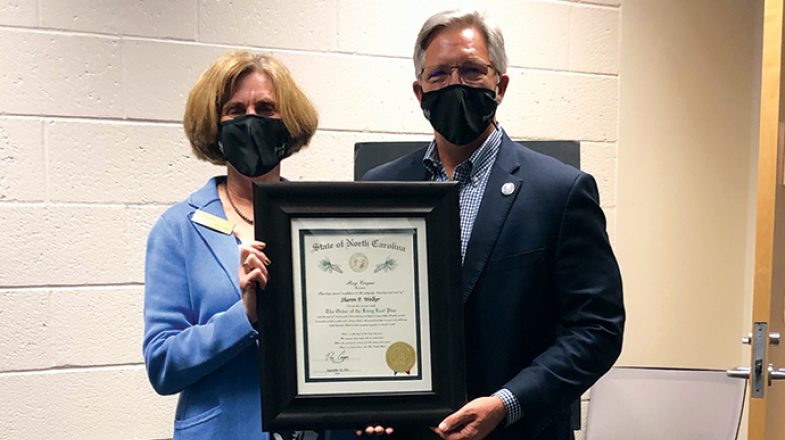 RALEIGH, N.C. (September 30, 2021) - Congratulations to Sharon Welker, Dean of Mathematics, Sciences & Engineering, on being awarded the Order of the Long Leaf Pine.

Given by the governor's office, the award is North Carolina's highest civilian honor. It was presented to Welker today at her retirement reception. She officially retires September 30.

The award recognizes Welker's 30 years of service to the NC Community College System. She began her career in higher education at Bladen Community College, where she was a part-time mathematics instructor. In 1991, she moved over to Catawba Valley Community College where she was an instructor and division chair in mathematics. She joined the Wake Tech family in August 2004. At Wake Tech, she has served as mathematics instructor, associate department head and department head before being named dean in March 2015.

As dean, Welker managed two transfer degrees and hundreds of full and part-time instructors. In addition, she has significantly contributed to the institution's quality through her leadership and participation in strategic planning, faculty professional development training and program review. She has been instrumental in securing grants to advance STEM initiative pathways that include providing opportunities for underserved populations.

Welker received many recognitions throughout her career including Excellence in Teaching awards from Catawba Valley and Wake Tech. Most recently, her START Undergraduate Research Program won the Innovation of the Year award at Wake Tech and has been awarded a grant to sustain the initiative. Welker is a compassionate educator and a respected leader at Wake Tech.