A Dream Comes True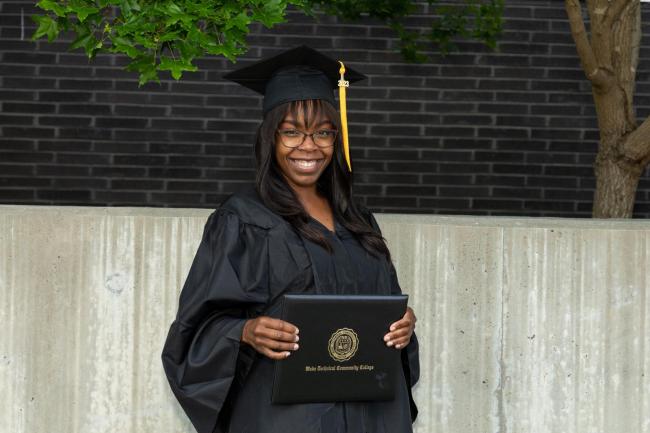 JulieAnna Gissendanner
Class of 2023
Favorite Aspect of Wake Tech
The instructors and support resources
Career Goals
Counselor or stylist
"I'm going to be able to get a career now and go on to college and further my education."
— JulieAnna Gissendanner
It has taken two decades, but JulieAnna Gissendanner has proudly earned her high school equivalency diploma. The road to success for this 34-year-old single mom was long and hard, but she persevered even when she doubted herself.
A native of California, Gissendanner grew up in a tumultuous home and quit high school during her freshman year after her family was evicted from their house. She was 14 years old.
"At that point, my siblings and I all dispersed and went out on our own. I had to survive so work was my priority, not school."
She started braiding hair to earn a living and worked as many as three jobs at a time to pay the bills. At 19, her son was born, and two years later, she had a daughter.
Gissendanner said she always knew education was her path to a better life, but with two young children to care for, she struggled to find the time and courage to commit to finishing her high school credential.
"I started classes several times, but then I would get overwhelmed because it always came down to me needing to work."
A few years ago, she relocated to North Carolina and shared her dream of wanting to finish high school with a friend at church. The woman connected her to Wake Tech, and she enrolled in the High School Equivalency Program.
"I was tired of filling out job applications and having no education to list," she said. "I wanted more for myself and for my kids, so I told myself that I've got to get serious if I want a better life. At that point, I hit the ground running."
Instructor Judianne Wall was impressed with Gissendanner's determination. "She had her eyes set on her goal and used all of her energy to get there," Wall said. "As with all GED students, she desired something more than what she had. What set JulieAnna apart was her unrelenting desire to accomplish her goal despite any circumstances that may be trying to hold her back."
Gissendanner is still trying to pinpoint her career path but is considering Wake Tech's Human Services Technology or Cosmetology programs. Whichever she chooses, she'll have her new high school credential with her every step of the way.
"I'm going to be able to get a career now and go on to college and further my education," she said. "Nothing is in my way anymore, and that's an awesome feeling."