Research Poster Symposium
The Wake Tech Research Colloquium welcomed faculty, staff, and students to its first Research Poster Presentation Symposium on April 17, 2019, at the Perry Health Sciences campus. Close to 20 teams presented their posters, covering multiple research topics. The Symposium generated a crowd of visitors who were able to view the posters in a gallery walk while interacting directly with the research teams.  
Featured First Submission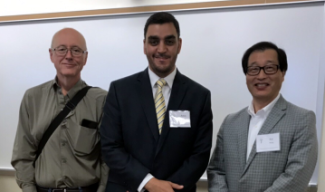 Understanding Muslim Assimilation: An Empirical Assessment of First and Second Generation Muslims Using Segmented Assimilation Theory
Asfari, A. and Askar, A.
Criminal Justice
Business and Public Services Technologies
In the post 9/11 era, Muslim Americans face increasing challenges and calls to assimilate into their host culture—the United States. Indeed, the events of 9/11, as well as subsequent attacks in Europe have heightened public fears and legitimized the idea that Muslims don't belong in the West. With increased scrutiny and efforts to marginalize Muslim immigrants, this study seeks to contribute to the small but growing body of literature on the integration of Muslims into their host country, specifically, we evaluate the integration of first- and second-generation Muslim Americans. Findings suggest that Muslim assimilation follows similar trajectories as those of other immigrant populations (i.e., Hispanic, Sikh, Asians).