In The Community
James Roberson Receives Order of the Long Leaf Pine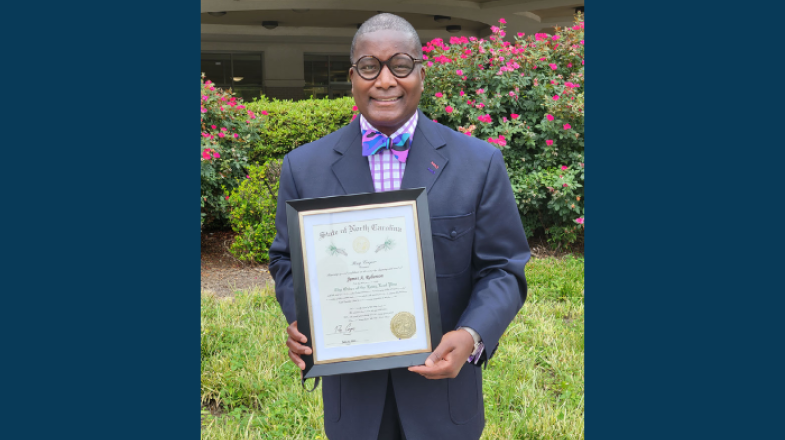 RALEIGH, N.C. (August 5, 2021) – James Roberson has received the Order of the Long Leaf Pine for his 31 years of service at Wake Tech.
He retired July 31 as the college's Senior Dean of Instructional Support and Chief Campus Officer at the Western Wake Campus.
Given by the governor's office, the award is North Carolina's highest civilian honor. It was presented to Roberson at his July 26 retirement reception.
In his time at Wake Tech, Roberson had a direct impact on student success through his work in the college's library, media services, and tutorial services, as well as his leadership roles as a dean and chief campus officer. In 2020, he was recognized as one of Wake Tech's Excellence in Leadership Award recipients.
Roberson always strived to make Wake Tech better. He and his team developed a wide range of Instructional Support services to assist students, faculty, staff and community members. He enhanced the Individualized Learning Center by expanding offerings, opening new centers as soon as new campuses open, and providing remote online services. In addition, he continued to ensure that our libraries met the digital resource expectations of students and faculty. Through his leadership, under-resourced students have access to computer labs and an increasing number of online students can take tests in a convenient and secure environment.
Recently, Roberson forged a partnership between Wake Tech, Knightdale and eastern Wake County, a local employer, and the National Association for Community College Entrepreneurship to create a model for providing under-resourced students with work experience and job opportunities while meeting the talent needs of local small businesses.
A Knightdale resident, Roberson is known for his active role in numerous civic groups, committees, councils, and commissions focusing on providing educational, workplace, health, and transit opportunities for everyone. James has also contributed to the well-being of his community by engaging in local government. He served two terms on the Knightdale Town Council and was serving his second term as mayor when earlier this year he was appointed by Governor Roy Cooper to fill a vacant seat in the North Carolina General Assembly's House of Representatives.
"In my experience, James ranks among the college's finest employees, given his long and deep commitment to applying best practices in customer service to student academic support and employee professional development," said Bryan Ryan, Senior Vice President of Effectiveness and Innovation. "I have known James since 1992 and he has been a tireless champion for effective resources and services for student success, an exceptional performer able to carry out existing plans, and a creative innovator with the background to develop new approaches to old and new challenges. He will be greatly missed!"
A graduate of James B. Hunt High School in Wilson, Roberson received his bachelor's degree from Shaw University and earned his master's degree at North Carolina Central University.