Events
They're Hired! First WakeWorks Apprentices Sign Up with Local Employers
Wake Tech Hosts Special Ceremony to Make it Official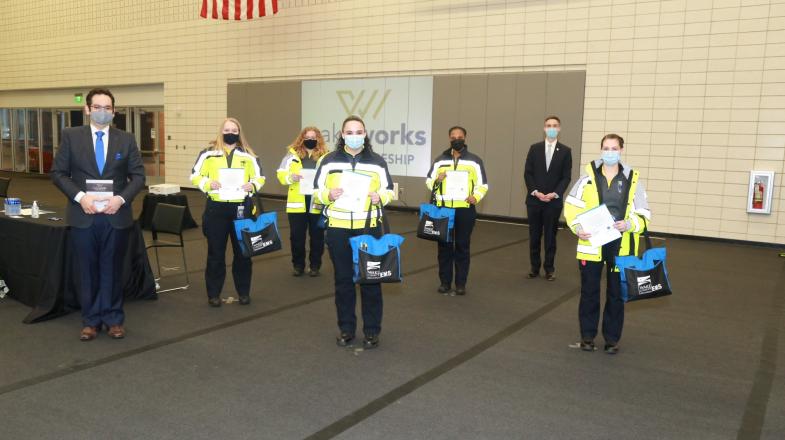 RALEIGH, N.C. (March 16, 2021) – More than 50 Wake Tech students are ready to "learn and earn!" They're the first students to be hired as apprentices through the WakeWorks Apprenticeship program, which launched last year with funding from Wake County Commissioners. The goal is to provide opportunities for students while helping local companies fill their talent pipeline. Representatives from most of the 16 local hiring companies came to the Scott Northern Wake Campus tonight to sign up their new apprentices in a special ceremony.
"We couldn't be more excited to see our students being hired, and I want to thank our employers for making the commitment to our students," said Wake Tech President Dr. Scott Ralls. "For students, this can change your life and your family's life, for employers it will change the trajectory of what you can accomplish. And collectively, you're contributing to making a better community for us all."
Interviews for many of the apprenticeship positions took place at Wake Tech or were held virtually in January and February. The students were hired as registered apprentices in HVAC, electrical, carpentry, automotive and EMT/Paramedic positions. Employers who came for the signing event included Wake County EMS, Capital Auto Group, Westgate Automotive, NC State, and several electrical contractors – some hired as many as 10 new apprentices.
Wake County Commissioners last year unanimously approved funds of up to $500,000 per year to expand apprenticeship opportunities in skilled trades and technician programs, where demand for workers is high. WakeWorks funding covers tuition, fees, books, uniforms and tools for the apprentices, who will also receive at least 2,000 hours of on-the-job training and 144 hours of related classroom instruction. In addition, apprentices will earn a paycheck and eventually a Journey Worker certificate, verifying their skills and qualifications in their trade or craft. Most apprenticeships lead to permanent employment.
"Just like the rest of the country, we simply don't have enough skilled tradespeople," said Matt Calabria, Chair of the Wake County Board of Commissioners. "And there's a mismatch between the jobs that we have and the people we have to fill those jobs. On top of that, a lot of our professionals are aging out. There has never been a time when a program like this was more needed!"
In addition to the apprenticeships currently available through WakeWorks, new opportunities are in the works in apartment maintenance, building and code inspection, masonry, welding, plumbing, pipefitting, and telecommunications tower technician. Some of the programs lead to an associate degree; others are non-degree. All lead to an industry-recognized credential as well as the nationally-portable Journey Worker certificate.
WakeWorks apprentices are registered with ApprenticeshipNC, North Carolina's apprenticeship agency.
According to the U.S. Department of Labor, apprentice graduates can expect to earn as much as $300,000 more over their lifetime compared to peers who don't complete an apprenticeship. Employers value apprenticeships as a way to develop talent with the customized skills that can help their businesses grow. To learn more, visit apprenticeship.waketech.edu.