Events
College Recognizes Employees and Volunteers for Service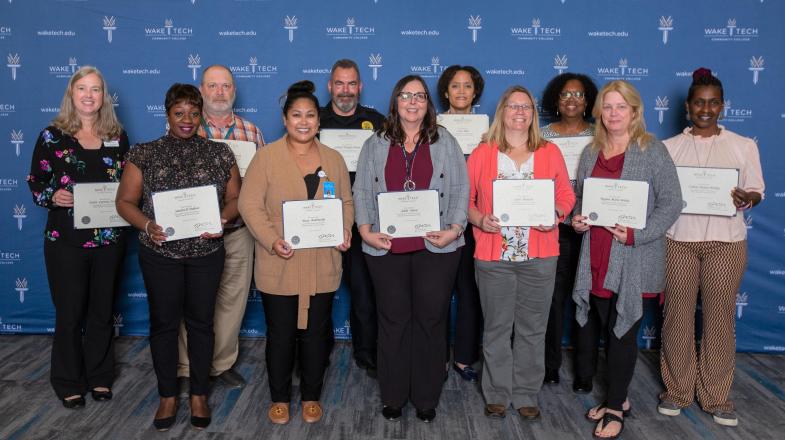 RALEIGH, N.C. (October 25, 2022) – Wake Tech is proud of its employees and volunteers and all that they have accomplished this year. The college recognized 234 full-time employees who have reached milestones in service with a special ceremony at the Southern Wake Campus. Their combined years of service tops 2,565 years! Seventeen volunteers who each provided at least 100 hours of service in the past year also were honored.
"On behalf of all of us at Wake Tech, thank you for so generously sharing your skills and talents," said Wake Tech President Dr. Scott Ralls. "Your dedicated service has helped us honor our commitment to educating students and serving the community."
Employees and volunteers received certificates in honor of their achievements.
30 years
Kirsten Burkart
Associate Professor 9M, English
William Donaldson
Instructor, Electronics Engineering Technology
Julie Fenton-Glass
Professor 9M, English
Caralyn House
Senior Professor/Program Director, Baking and Pastry Arts
Christopher James
Associate Professor, Information Security
Bryan Ryan
Senior Vice President, Effectiveness and Innovation
Rhonda Thomason
Assistant to the Senior Dean, Liberal Arts
25 years
Melania Aguirre-Rabon
Department Head, Foreign Languages and Fine Arts
Kristina Allen
Assistant Registrar, Continuing Education
Anthony Caison
Vice President, Workforce Continuing Education
Edith Cowper
Instructional Program Specialist, ESL
Vickie Jones
Assistant to the Executive Vice President
Amy McGee
Procurement Specialist
Bonnie Shattuck
Student Records Assistant
Annette Williams
Director, Financial Aid – Loan Processing
20 years
Jacinta Allmond
Director, Academic Advising Support
Vicki Baggett
Associate Professor, Psychiatric/Mental Health
Eugene Bartlett
Associate Professor, Biology
Kimberly Breivogel
Professor 9M, Psychology
Michelle Capps
Associate Registrar
Rhoderick Fleming
Associate Department Head, Pre-curriculum
Gayle Greene
Executive Vice President and Chief Operations Officer
Brenda Grizzard
Admissions Records Assistant II
Melissa Hampton
Receptionist/Office Assistant
Rebecca Harris
Professor, Nursing
Ellen Horne
Associate Professor, Medical Assisting
Paul Jenkins
Associate Dean, HRD, Technology and Special Programs
Brenda Maddox
Department Head, Dental Hygiene
Jill Mikulecky
Professor/Program Director, Biotechnology
Anjali Misra
Laboratory Training Specialist
Jennifer Nicholson
Data Analyst (Finish First Initiative grant)
Lara Sheppa
Senior Professor, Nursing
15 years
Diane Albahrawy
Associate Professor 9M, Business Administration
Edna Artis
Interim, Assistant to the Dean, Liberal Arts
Shemika Bell
Director, Staff Professional Development and Event Management
William Benken
Warehouse Technician
Laura Bethea
Senior Director, Career Exploration/Title IX Coordinator
Pamela Brown
Business Services Manager
Michael Bussey
IT Regional Coordinator
Tracy Cheatham
Senior Professor 9M, Chemistry
Shahrzad Emadi
Associate Professor/Center Coordinator, ILC Math
Ana Flores
Technical Assistant, Non-credit Computer Education
James Freeman
Senior Professor/Program Director, Air Conditioning, Heating and Refrigeration Technologies
Melissa Freeman
Admissions Records Assistant I
Karen Fussell
Associate Professor 9M, Pre-curriculum Mathematics
Janice Hall
Receptionist/Office Assistant, Public Safety Education Campus
Edward Hatley
Instructor, Correction Education
Shawnda Holley
Business Services Manager, Satellite Campuses
Kaye Ivey
Campus Information Assistant
Scott Johnson
Senior Professor 9M, Biology
Michael Jones
Associate Department Head, English as a Foreign Language
Martin Knapp
Instructor 9M, Pre-curriculum Math
Patricia Lainfiesta
Scanning Assistant
Penny Lovett
Assistant Professor 9M, Spanish
Janine Maldonado
Director, ESL
Barry Malone
Department Head, Humanities
Rhonda Pickett
Assistant to the Vice President, Curriculum Education Services
Joan Romer
Department Head, Mathematics and Physics
Sara Rutzky
Professor 9M, Geology
Tina Sikes
ShaePoint Developer I
Sherry Stubbs
Technical Assistant
Brad Swearingen
Professor 9M, Simulation and Game Development
Julia Tennant
Instructional Program Specialist
Lana Thacker
Admissions Records Assistant I
Hylana Tyler
Operations Supervisor
Carolyn Vinson
Instructor/Coordinator, Correction Education
Russell Wahrman
Instructor, Welding Technology
Jo-Ann WIlliams
Technical Assistant, Program Performance and Accountability
Anita Young
Campus Librarian
10 years
Adele Abreu
IT Procurement and Inventory Manager
Terry Allen
Dean, Educational Pathways and Partnerships
Hugo Arias
Instructor/Coordinator, HEP
Evangeline Atkinson
Financial Aid Information/Imaging Quality Control Assistant
Thomas Aydlett
Associate Professor 9M, Mathematics
Philip Bales
Assistant Professor 9M, Culinary Arts
Beverly Bartholomew
Assistant Professor, Medical Office Administration
Gina Beaudry
Director, Career and Technical Education Partnership
Megan Bell
Associate Professor 9M, Communications
Alex Bellamy
Financial Aid Information Assistant
Valerie Bishop
Assistant Professor 9M, Cosmetology
Cyntria Bouknight-Lyons
Instructor 9M, Information Security
Nicholas Bowden
Assistant Professor 9M, English
Regina Briska
Information Assistant
Maya Budihardjo
Director, Campus Services
Paxton Callahan
Telecommunicator
Carrie Carreno-Zingaro
Professor/Site Coordinator
Wesley Clifton
New Student Orientation Coordinator
Tiffany Cogdell
Financial Aid Specialist II
Stephen Crutchfield
Sergeant
Wyatt Cumbo
Assistant Chief of Police
Nicolas D'Agata
Associate Professor, Web Technologies
Garett Davin
Facilities Inventory Coordinator
Wendy Davis
Counselor, College and Career Readiness
John Davis
Telecommunicator
Lisa Dees
Library Technical Assistant II
Tyler Dockery
Professor 9M, Advertising and Graphic Design
Ronald Dowless
Telecommunicator
Sandra Dubose
Program Coordinator, Wake Invests in Women
Leighton Ford
Assistant Professor 9M, Mathematics
Cindy Fowler
Assistant Professor 9M, Pre-curriculum Mathematics
Sarah Fox
Assistant Professor 9M, Spanish
Karen Gibbons
Assistant to the Dean, Mathematics and Sciences
Kandy Griffis
Human Resources Technician
Donald Hairston
Associate Professor/Center Coordinator, ILC Computer
Natalie Heath
Director of Marketing
Lillian Heaton
Assistant to the Vice President, Workforce Continuing Education
Elizabeth Hill
Office Assistant
Michael Holmes
Academic Advisor
Sara Holmes
Donor Relations and Communications Manager
Thelma Holmes
Admissions Information Specialist
Carlos Huchim Porter
Warehouse Technician
Valorie Hutchinson
Assistant Professor 9M, Cosmetology
Phillip Jefferson
Associate Professor/Program Director, Architectural Technology
Donna Jeffries
Receptionist/Office Assistant
Emily Kamuabo
Return to Title IV Specialist
Sarah Keeley
Associate Professor 9M, English
Rachel Kiaski
Executive Director, Human Resources
Jacqueline Kilberg
Library Technical Assistant I
Tamaria Lawson
Director, Campus Services
Geoffrey Levine
Digital Media Producer
Brandie Littlefield
Professor 9M, Biology
Delia Lofton
Associate Professor, Radiography
Mark Marand
Assistant Professor, Computer Information Technology
Raimel Martinez
End User Support Analyst II
Michael McLamb
Veteran Affairs and Educational Services Manager
Deborah Mills
Associate Professor 9M. Mathematics
Jennifer Mincey
Evening Librarian
Willie Morris
Campus Police Officer
Jeff Myers
Associate Professor 9M, Business Administration
Derrick Nantz
Associate Professor 9M, Philosophy/Humanities
Cam Nichols
Instructor 9M, Pre-curriculum Mathematics
Andras Paul
Assistant Professor 9M, Mathematics
Michael Penry
Chief of Police
Mark Pergerson
Laboratory Training Associate II
Jovy Regalado
Assistant Professor 9M, Physics
Candice Roberts
Associate Professor 9M, Biology
Traci Rowe
Professor 9M, Communications
Megan Rudolph
Campus Librarian
Nadeen Russell
eLearning Support Technician
William Sanders
Manager, Administrative Computing
Jennifer Skiles
Administrative Assistant/Training Coordinator, Campus Police
Jimmy Smith
End User Support Analyst II
Faye Stall
Associate Professor 9M, English
Mary Staton
Professor 9M, Biology
Ashley Steinberger
Telecommunicator
Melanie Thomas
Department Head, Accounting
Ken Turner
Department Head, Simulation and Game Design
Mark Vitacco
Assistant Professor 9M, Mechanical Drafting Technology
Benjamin Wagoner
Coordinator, Grants Administration
Kenneth Williams
Assistant Test Administrator
Darrell Williams
Director, Business Services
Jeremy Zettervall
Instructor 9M, English as a Foreign Language
Connie Zimmerman
Assistant to the Dean, Information Technology
5 years
Melissa Attanas
Assistant Professor 9M, Baking and Pastry Arts
Keith Babuszczak
Provost/Chief Campus Officer, Information Technology
Sadarrius Barnes
Corporal
Myra Beckers
Coordinator, Amazon Mechatronics Training
Melissa Black
Applications Analyst III
Lauren Blanchette
CCP Enrollment and Academic Advisor
Ivory Bouknight
Instructor, Adult Basic Education
Debra Buchanan
Assistant Professor 9M, Communications
Natosha Burgess-Rodriguez
Accessibility Technologist
Shannon Butler-Natale
Department Head, Pharmacy Technology
Kimberly Callis
Assistant to the Assistant Vice President for Student Services
Chad Celcer
Instructor, Welding Technology
April Collins
Business Services Assistant
Jessica Craig
Coordinator, Staff Professional Development
Melinda Crumpler
Assistant to the Vice President of Human Resources and College Safety
Scott Davis
Lead Assistant Professor 9M, Criminal Justice
Arthur Davis
Instructor, Emergency Medical Science
Maggie DiPresso
Financial Aid Specialist II
Jazmine Dozier
Coordinator, Disability Support Services
Ricardo Duarte
Instructor, Air Conditioning, Heating and Refrigeration Technologies
Paulette Gallagher
Networking Infrastructure and Operations Analyst
Edward Garner
Instructor 9M, Biopharmaceutical Technology
Mattie Goodson
Assistant Professor 9M, Medical Laboratory Technology
Robert Green
Campus Police Officer
Robert Hair
General Facilities Technician/Painter
Nancy Harrell
Instructor/Program Director, Therapeutic Massage
Donna Hawkins
Associate Department Head, Business Administration
Steven Hawkins
Instructor, Electrical Systems Technology
Frankie Hendricks
Student Services Specialist I
Staci Herman Drauss
Assistant Professor 9M, Early Childhood Education
Landon Hicks
Coordinator/Instructor, Corrections and Detention Training
Kaitlyn Hull
Assistant Professor 9M, Biology
Elvin James
Director, Career and College Promise
Mia Johnson
Assistant Professor 9M, Health and Fitness Science
Austin Jones
Assistant Professor 9M, Mathematics
Rachel Jones
Library Technical Assistant II
Sandellyo Kauba
Instructor, Networking Technology
Andrew Kesick
Campus Police Officer
Patricia Kilmer
Instructor, Medical Laboratory Technology
Lauren Lee
Assistant to the Vice President for ITS
Diana Lehman
Policies and Procedures Manager
Michael Lewis
Academic Advisor
Jonathan Lowery
Instructor/Program Director, Welding Technology
Karen Maasch
Assistant Professor 9M, Dental Hygiene
Jonathon Marshall
Coordinator, Disability Support Services
William McNairy
Instructor 9M, Physics
Roxanne Miller
Senior Director of Development
Glenn Mitchell
Director, Law Enforcement Training
Emily Morris
Assistant Professor 9M, English
Stephanie Nikolic
Assistant Professor 10M, Culinary Arts
Anne Pistacchio
Assistant Professor/Program Director, Magnetic Resonance Imaging
Charles Powell
Assistant Professor 9M, Accounting
Patrick Reed
Assistant Professor 9M, History
Amy Riker
Assistant Professor 9M, Business Administration
Susan Rizzo
Instructor 9M, Computer Programming
Angela Robinson
Student Records Specialist II
Aziza Samieva
Assistant Professor 9M, Sociology
Angela Smedley
Assistant Professor/Associate Department Head, Communications and Theatre
Kelly Smith
Instructor, ESL
Travis Smith
Campus Police Officer
Johnette Smith
Career Coach
Robert Stagg
Assistant Professor 9M, Public Safety Administration
Stephen Stewart
Assistant Professor 9M, Chemistry
Margaret Stradling
Chief Financial Officer, Wake Tech Foundation
James Strickland
Assistant Professor/Site Coordinator
Erik Sugg
Instructional Librarian
Tyler Suggs
Assistant Professor 9M, Philosophy
Randy Teal
Hardware Specialist
Kelly Turner
Laboratory Training Associate II
Rudolph Turner
Instructor 9M, Mathematics
Dayla VanSchaick
Instructor 10M, Early Childhood Education
Starlette Vaught
Assistant Director, Disability Support Services
Edward Washington
Corporal
Paula Williams
Assistant Professor, Pharmacy Technology
Robert Windsor
Range Manager
Katherine Winsett
Assistant Professor 9M, Biology
Wendy Yde
Student Records Assistant
Volunteers
Paula Childs
Eloise Currie
Marcos Elliott
Howard Ellis
Rick Fish
Geni Fitzgerald
Dan Fuccella
Valerie Gantzler
John Hayes
Stephen Hodgkins
Diane Miller
Mike Peterson
John Phipps
Terry Sawyers
Richard Songey
Sandra Thomas
Bruce Tria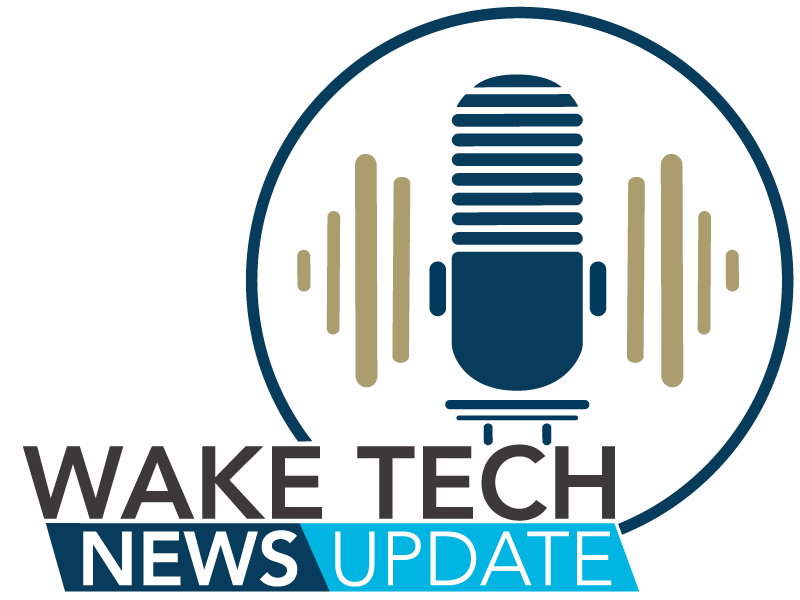 Latest News from Wake Tech