Events
College Plans Strategic Expansion for Workforce Development
$353 Million Initiative Will Fund High-Priority Facilities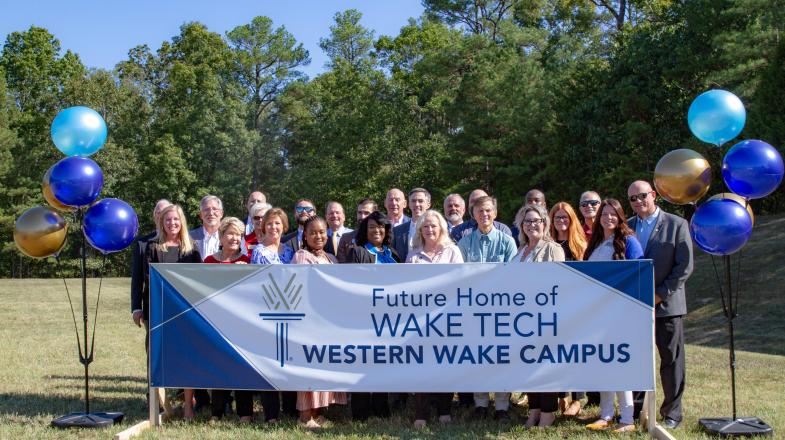 RALEIGH, NC (September 21, 2022) – Wake Tech, the state's largest community college, is planning a four-year strategic expansion to meet the workforce training needs of our growing community. Wake Tech's $353.2 million Workforce Forward bond, on the ballot in November, will fund high-priority projects in four strategic areas: the expansion of Health Sciences programs, a permanent campus in southwestern Wake County, more cybersecurity training at the RTP Campus and renovations and upgrades collegewide.
The announcement was made today at the site of a new, permanent home for the college's Western Wake Campus, to replace its current leased space in Cary. The 34-acre site is strategically located at the intersections of U.S. Highway 1, N.C. Highway 55, and the N.C. Highway 540 Triangle Expressway. Approval of the Workforce Forward bond is vital to the start of construction there.
"The Wake Tech Workforce Forward bond will ensure that our college meets the growing need for education and workforce training in our community," said Wake Tech President Dr. Scott Ralls. "Apex is one of the fastest-growing cities in our state and the entire country. With the influx of IT, biotech and life sciences companies moving to Apex, Holly Springs and Cary, the time is right for a permanent campus to prepare the talent pool these companies are counting on."
A permanent Western Wake Campus is one of four strategic priorities for the Workforce Forward bond:
Perry Health Sciences Campus expansion

Wake County's population is aging as well as increasing, so a significant expansion of Wake Tech's Health Sciences programs is the key priority of the Wake Tech Workforce Forward bond. The expansion of Wake Tech's Perry Health Sciences Campus will include construction of a 120,000-square-foot facility. This critical building will allow for the expansion of the college's high-demand nursing programs and the potential addition of programs in mental health, physical therapy, occupational therapy and respiratory therapy. The new facility will house a "Simulation Hospital" supporting nursing and other degree and non-degree health care programs, as well as state-of-the-art laboratories for imaging programs.

Permanent Western Wake Campus

Initial facility construction at the new site will provide permanent space for existing Western Wake Campus operations, including Advising, a library and classrooms/labs for business and University Transfer degree programs. It will include a new Entrepreneurship Center, which will be the hub for small-business resources, and a new Workforce Development Center, featuring IT and game development labs and industrial/biopharmaceutical training space to support the dynamic job growth in Apex,Cary and Holly Springs.

New cyber science facility on RTP Campus

Wake Tech's RTP Campus has emerged as a major attraction for new and advanced technology companies growing in the Research Triangle region and a unique home for education collaboration, including RTP Bio and the new Wake Early College of Information and Biotechnologies. Bond investments will support construction of the third building on the RTP Campus, which will allow expansion of life science and IT programs, especially in the field of cybersecurity, where demand is great. It will also allow the continued advancement of education and industry partnerships.

Investments in infrastructure

Funding from the Wake Tech Workforce Forward bond will support needed renovations and upgrades at Wake Tech's original Southern Wake Campus and at all campus locations. Keeping facilities up to date with new technologies, sustainable processes, security enhancements and accessibility upgrades is a significant part of the college's commitment to maintain quality as it grows to meet the workforce needs of the community.
Independent studies indicate that Wake Tech generates more than $1 billion for the local economy each year, with each dollar invested in Wake Tech generating more than $7 in added income and social savings.
The following community leaders have signed on as co-chairs of the Wake Tech Workforce Forward Bond Committee:
Donald Gintzig, president and chief executive of WakeMed Health and Hospitals
Tim Humphrey, vice president, chief data officer and North Carolina senior state executive for IBM
Terrence Holt, president of Holt Brothers Construction
Maggie Kane, founder and executive director of A Place at the Table
Wake Tech serves more than 70,000 students each year, and this fall saw its largest enrollment in degree programs since the pandemic started. Approximately 75% of Wake Tech students reside in Wake County, with most other students coming from adjacent counties, forming the basis of the region's future workforce. The vast majority of Wake Tech students remain in the region after graduation and have average annual incomes almost $10,000 greater than those of high school graduates.
A national study by Georgetown University's Center for Education and the Workplace ranks Wake Tech in the top 20% of all colleges and universities in the nation – and the top 10% in North Carolina – for return on student investment 10 years after graduation. Previous bond referendums for Wake Tech were overwhelmingly approved by voters, most recently in 2018.
For more information, visit waketech.edu/2022bond.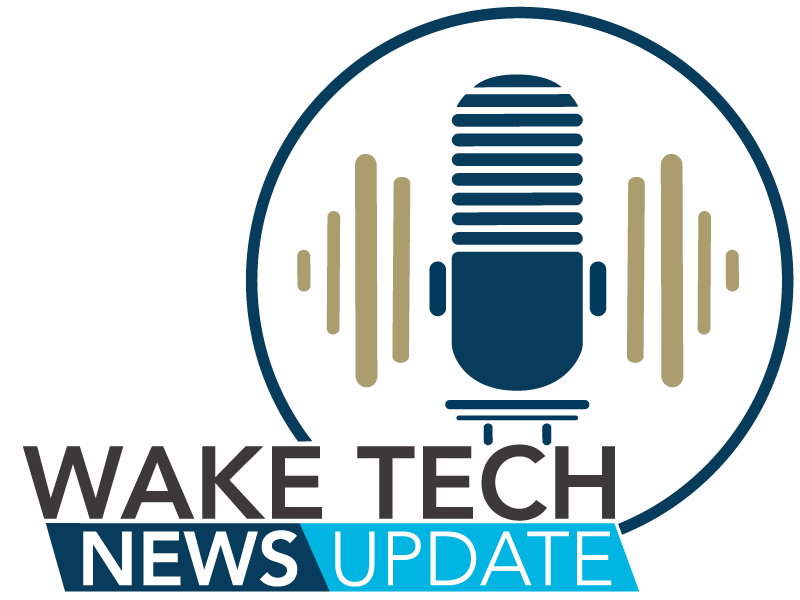 Latest News from Wake Tech